As such, Billiato along with
MacG's Grandeur
were able to sign a deal with a special one, technically, two of a kind Makro back in 2022. Moreover, besides it being available at Makro stores, the alcoholic beverage is available at a number of liquor stores nationwide.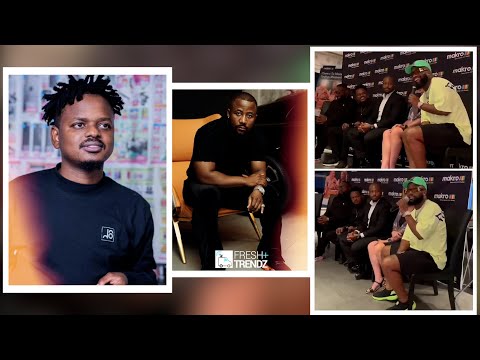 With Billiato exponential growth, it seems that Cassper was ready to ensure that the brand is not entirely tied to his brand. This is as he has gone ahead and appointed the first ever ambassador for the brand.

Toss becomes Cassper Nyovest's Billiato's first ambassador


Back in October 2022, during the recent peak in the beef between AKA and Cassper over the ownership of
The Braai Show,
Cassper clapped back at AKA by sharing an edited image suggesting that he was the ambassador of Billiato. This was off the back of AKA suggesting that Cassper was his employee after winning the battle over the matter of the show's IP ownership.
This clap back seemed to have inspired Cassper to look for an actual ambassador for his alcoholic beverage. Hence in January 2023, he took to Twitter to tease the announcement when he asserted that he has signed his first ambassador for the brand.
At the time he did not actually mention who the ambassador in question was going to be. As a result the comments section was filled with guesses as to who would fulfil this role. Many were wrong as they believed that the ambassador in question would be chosen due to their affiliation with Nyovest. Hence the likes of Primo, Kamo Mphela, AKA and Carpo More were names that popped up a lot.
Not many were able to guess the correct artist who would be the first ever ZAlebs to back an alcoholic beverage by a fellow ZAlebs. But that is not to say there weren't those that could guess the right answer. More so as popular alcoholic brands by ZAlebs are fronted by the ZAlebs themselves. Whether it is Bonang's House of BNG, DJ Zinhle's Boulevard, Pearl Thusi's Black Rose GIns, the list is endless.
Hence Cassper becomes the first to use a fellow ZAlebs as an ambassador of his alcoholic beverage as it is now official that
Toss
is the first ever Billiato brand ambassador. A confirmation that was revealed with the gold and opulence themed shoot, which
saw Toss in his element
; being shirtless and showing off his muscled abs.
Moreover, Toss shared the news on his social media pages and thanked Cassper for believing in him and his brand to further the popularity and success that Billiato has managed to garner in just over a year since it was introduced into the market.

Image credit: Instagram