Toya Delazy is  without a doubt one of the most successful pop artists on the SA entertainment scene and in Africa as a whole.  With smash hits such as "Love is In The Air" and "Pump It On" she's announced herself to the world as a music heavy weight, and she's now even making waves overseas. We literally snatched her away from her rehearsals for the Durban Day celebrations this past weekend in order to get this interview with her.
In our excitement we kicked of our conversation with Toya who sounded like she was in great spirits ready to tackle each question we threw at her.
A couple of weeks ago Toya showcased an astounding performance at the Amstel Golden hour concert where she debuted her next upcoming single, "Viva Party." ZAlebs chatted to the pop sensation about her reasons for dropping the single at that particular event.
"I didn't drop the single just because I was on a performance high. The new single was initially planned to be released at the concert, and besides the crowd was amazing! They just wanted more and what the public wants they'll get! I couldn't leave them hanging like that. Besides, my team and I have been working hard in creating this new show that I'm excited to show to my fans."
When Toya mentioned new show, we really started to become excited as we wondered if she was either talking about a reality  show, a documentary or a possbile nationwide Toya Delazy tour and before we could get ahead of ourselves she stopped us in our tracks.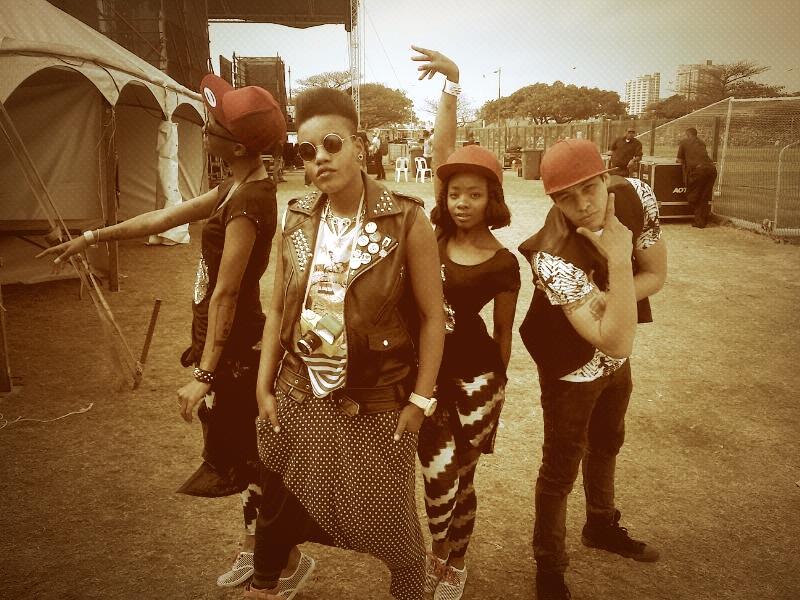 [Laughs] "No guys, relax it's not a reality show or anything like that I mean an actual performance. Back in the day, all I used on stage was my back-tracks and my dancers but now I've been able to expand my live performances by bringing out a fully fledged band which will also inlcude some really awesome background vocalists. I've really upped my game with regards to my performances; I've even added some visuals to enhance the quality of my shows. I feel like I've grown tremendously throughout these couple of years and I really want to show people and my fans that I'm capable of presenting a show of international status."
Toya Delazy told to stick to script!
If you're a fan of an artist; besides their performances, you can also develop a great interest in what occurs backstage or during the rehearsal space. Toya decided to share her rehearsal diary with us. We were curious of whether or not she and the Delazy crew actually perform some sort of ritual before ripping down the stage.
"Basically I arrive and everything is already set up for me because I already have a sound engineer who knows the gist of the stage set up, my band and backup dancers check if they're sounding ok and we get down to musical business.  What I also prefer to do is always tweak somethings here and there during my rehearsals so every show stays fresh and differant from the other two or three shows I'd be performing that week. There's not many rituals that we do for me its just really about getting the work done and ensuring that we give it our all."
When looking at Toya's image and her music, she comes across as an artists who breaks down conventions and never goes by the book. We asked her if she ever catches her band off guard and pull unexpected stunts on stage.
"Before, I used to go against the script but my manager then sat me down and begged me not to jump into the audience because they might not bring me back or even worse I might just fall onto the floor! Of course, that could end up very badly so I was reprimanded from doing such outrageous things."
We're sure the fans wouldn't have such secure fingers if it was Rick Ross or L'Vovo jumping into the crowd.
We continued discussing the new single, "Viva Party" and how it was collaborating with the stellar production and DJ duo known as Pascal & Pearce.
"I initially wrote Viva Party by myself and then collaborated with Pascal & Pearce. It was actually their beat originally, so from there on they approached me to work with them and I wrote that song for them.  The title of the single was actually their idea too. The song is self-explanatory its all about coming together and having a great time."
Since the Delazyd one has been on Twitter, like every other celebrity, she's received a whole lot of flack for her craft and even for simply being Toya. However, through the months we've seen her fight back with some very fiery responses (Ouch!) We asked if Toya was actually advised by her management team to fight back as she's known to ignore nonsense when she sees it.
I aint the one to hate but I don't dig Toya Delazy and Donald's music, they are crap artists to me.

— Uno July (@Uno_July) May 14, 2013
"Sometimes I just feel that I also have days when I can just tell rude people where to get off. I'm Zulu and I've always been taught to be humble, but at the same time you can just let people walk all over you and not fight back.  There's a saying in Zulu that says 'Ungayi hlokolozi imamba ilele' which basically means in simple street terms 'don't start nothing, wont be nothing'. So usually I don't care but if the time is there I do entertain their negative comments but usually I don't care.  For me at the end of the day my art speaks for itself, so I'd rather depend on working hard and getting to the point where my craft can just speak for itself instead of constantly fighting with people who add no value to my craftsmanship."
Well Said Toya! We wish Ms Delazy the best of luck as she continues to work hard; we're looking forward to the new album and we hope it's even more succesful than the first one! 
Don't forget to follow us on Twitter and find us on Facebook