You've prabably heard the big news by now! Yes, our very own Trevor Noah will be replacing Jon Stewart on The Daily Show. That's a major achievement for the comedian and he certainly deserves.
Trevor, who joined the show as a contributer late last year, said no one can replace Jon. He added on Twitter: "But together with the amazing team at The Daily Show, we will continue to make this the best damn news show!"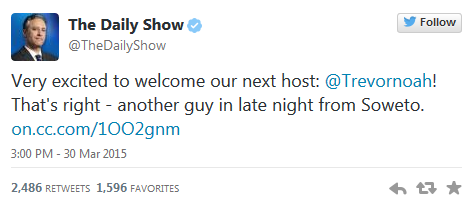 He's not the only one who took to social media to react. After the news broke, several celebs took to Twitter to share their thoughts on Trevor's new gig and to also wish him well.
Metro FM news reader Melanie Bala wrote: "One of the lessons I take from @TrevorNoah's success is: There is enough for all of us. The other? Focus on you."
Minister of sports and recreation also said a few words, He tweeted: "Congratulations @Trevornoah, you keep making your country proud. We wish you all the best of luck and you have our Support."
Rapper Tumi Molekani wrote on the social networking site: "Very proud of you Trevor and thank you on behalf of my son and daughter. @Trevornoah #WeWereAlmostGreat."
Here are more celeb reactions: