Tinashe, ZAlebs editor, was on duty on Friday night as we sent him to cover Vodacom's In The City event at Mary Fitzgerald's Square in Newtown. With a line-up that included bands such as Alt J, The Hives, Skunk Anansie as well as DJ, Boys Noize, it was clear that this would be a memorable experience.
The night was kicked off by South African acts Lil Bow and Al Bairre, before the international heavyweights made their presence felt. Let's catch up with Tinashe to see all that went down.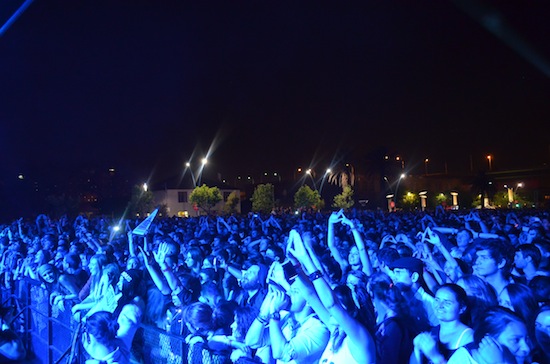 I had never been to Mary Fitzgerald Square before Friday night, so I was pretty excited when I arrived- particularly as one of my favorite bands at the moment, Alt J, would be performing. I arrived just in time to catch Lil Bow's set- I was expecting a local rapper, but instead discovered that Lil Bow was a lady DJ. I'd suggest a name change, as every Google search yields results related to the American Rapper. 
Al Bairre took to the stage around 7PM. Fans of local indie/alternative music recognized the band and gave them hearty support, but at this point the crowd was pretty dispersed. People were content with simply being able to hear the band while they took the time to stock up on food and beverages. Al Bairre's set was an interesting blend of covers and original songs. On the one hand, the covers ensured that a crowd who might know all of their original songs was able to dance and have a good time. On the other, however, I felt it was a great opportunity to show off their music, and it was slightly wasted on the covers.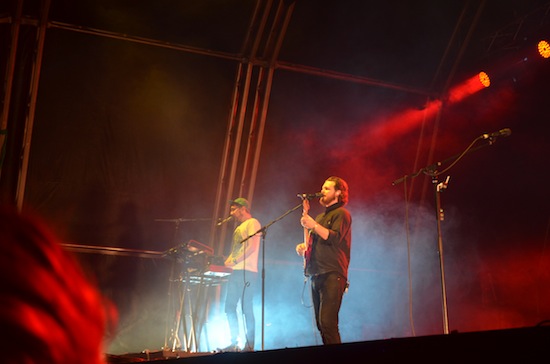 Al Bairre closed their set and after a 45 minute intermission, Alt J Took the stage. My word. They opened their set with "Intro" the first track on their debut album, An Awesome Wave, before absorbing the crowd for just over an hour. They played recognizable smash hits, including "Matilda," "Fitzpleasure" as well as my personal favorite "Tesselate,"  before closing with "Breezeblocks" The band was perfect musically, although lacking a little in stage presence. The harmonies were on key and sounded almost identical to the studio renditions.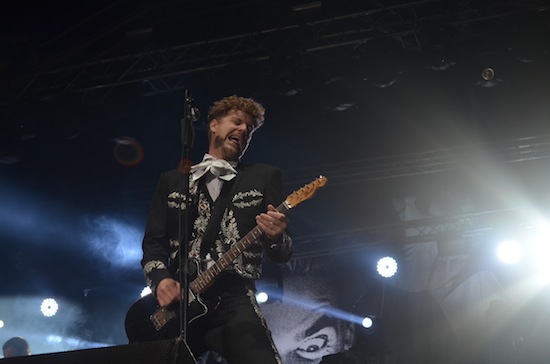 Soon after Alt J's set was done (After another 45 minute intermission) The Hives announced themselves to everybody in Newtown. If Alt J was lacking a little bit of stage presence, it was most likely because The Hives had stolen it and came out with the energy and enthusiasm of two bands. Make no mistake, there was one band and one front man out there and they stole the show with the performance of the night. "Walk Idiot Walk" was a popular crowd pleaser. If anybody needs a lesson in stage performance and audience interaction, watch The Hives live in concert.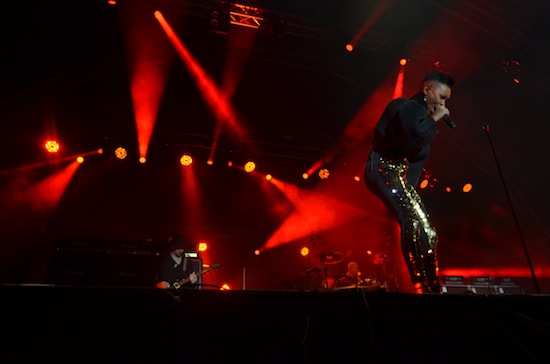 The main attraction of the night, however, was Skunk Anansie. The band who had been on the music scene for the longest time and had attracted listeners, both young and old, to Vodacom In The City. Skin, who is as unmistakeable a lead singer as she is talented, set the tone for their performance very early on with sharp vocals and smashing theatrics. I can't help but feel that the crowd didn't receive Skunk Anansie as well as they would have, had The Hives not had them exert all of their energy in the performance before. 
The night was closed off by German DJ, Boys Noize, who kept the remaining crowd dancing with some killer beats. I would have enjoyed seeing him (Or another DJ) in between acts (During those grueling 30-45 minute intervals) however his set was more than deserving of its own slot as he showed just why he's one of the world's leading DJs. 
At the end of it all, Vodacom In The City can certainly be considered as a success. To bring bands of that calibre to Johannesburg is no mean feat, and the event itself was organized and orchestrated smoothly and perfectly. 
It was a night that many will remember for a long time, especially those who were able to say "I saw my favorite band on South African Soil" 
We look forward to next year's show already, and hopefully we can have Vodacom In The City eclipse it's sister festival, Rocking The Daises, soon- or am I setting expectations a little too high?