Our new BFF's, Brutal Fruit, are giving you the chance to spoil one of you  BFF's this year with the trip of a lifetime. Brutal Fruit's new Mango Goji Fusion has been a hit with the public and is the perfect party starter. However the party is about to get even hotter; Brutal Fruit Mango Goji is giving away a trip for one lucky winner and their BFF to Las Vegas, USA- the party capital of the world.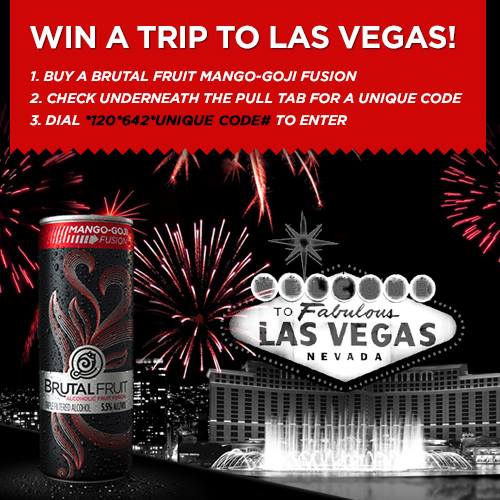 Yes, you read that correctly; you stand a chance of winning a trip for you and your BFF to Las Vegas for 10 days + loads of instant prizes are up for grabs! All you need to do to stand a chance of winning is the following:
Buy a 275ml or 440ml Brutal Fruit Mango Goji Fusion, find the unique code under the ring tab and dial *120*642*unique code# to enter. Call costs 20c / 20 seconds
Airtime, cash, iPod Shuffles, BlackBerry phones and Edcon shopping vouchers could instantly be yours.
Buy a @brutalfruitsa Mango-Goji Fusion 
Find the code under the ring tab
Enter your code. Dial *120*640*Unique Code#
WIN!!!