ZAlebs sent our secret agent Mr Double-O Zole to solve yet another task, figuring out the secret location of the Castle Milk Stout (CMS) Unplugged session with Muzart. Our agent's chances of completing the mission were in trouble, but he took control of the situation and made it to Castle Milk Stout Secret Location. Let's see what the latest entry in the ZAlebs Diary has to say about the Unplugges Session. 
Castle Milk Stout (CMS) once again gave ZAlebs the opportunity to attend one of their legendary parties as a prelude  to the upcoming Maxwell concert - an event the brand is organising later this year.
Admittedly I felt like Double-O Zole on a top secret mission when I was told that the Castle Milk Stout Unplugged Session would be held at an undisclosed venue. Shuttles would be picking us up from one location and then whisking us off to our final destination. I even expected the invite to self-destruct in 5, 4, 3, 2...but it didn't!
So off I headed on my secret mission, with Kanye West's "Diamonds from Sierra Leone" blaring out my car! Every top secret agent needs to have a theme song right?! But my excitement was short lived as I found myself getting lost over and over again trying to find the pick-up spot.
It looked like my mission was turning into a lesson in Joburg geography. After what seemed like forever (with Shirley Bassey echoing "forever…forever…forever" out of my speakers) I eventually found the obscure parking lot in the eastern outskirts of the city.
In true CMS style we were then driven off to an amazing Mansion at the top of the eastern suburban hills, with city lights painting an incredible landscape below us. Now this was more like it. The venue had a minimalistic yet classy setting, with few lounging areas and lots of open space – which allowed everyone there to do what we were all there for – PARTY! All the stylish revellers were then treated to the infectious sounds of Muzart, who served as the night's main entertainment. What a show this energetic and talented band put on, with selections from their self-entitled debut album and a few cover version medleys from the likes of Maxwell and Jessie J.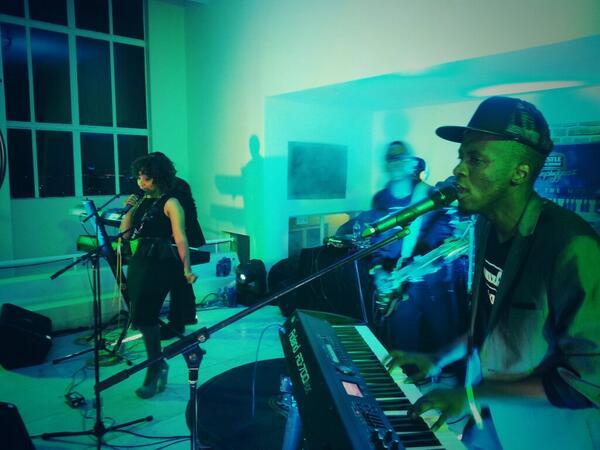 The crowd clapped up every song and danced the night away, quenching their thirst with CMS draughts which the bars were mainly stocked with (naturally). The night turned out to be a good mission after all, with me forgetting about hopelessly zigzagging around the streets of Joburg.
Double-O Zole will live to tackle another Top secret assignment once again! But this time, I will bring GPS…just in case.
Click here to view the gallery