It seems the war between
Babes Wodumo
and her mother-in-law Zama Gumede is far from over. Their beef was made known to the world when Zama went on Facebook Live and spewed all the hurtful words you can think of. She even accused her of faking her pregnancy and named her belly a sponge. Babes only addressed the matters with the papers, but months later, she is finally getting things off her chest.
Read more:
Mampintsha's Mother Exposes The Simelanes
Babes also went on to attack Makhadzi by saying she stinks and does not bath. The Gqom artist said Makhadzi has no future. According to
ireportSouthAfrica,
she also alleged that Makhadzi is after her man, but then laughed and said she is joking. You thought she was done? Nope, she continued attacking the Khokhovha hitmaker and said she must go cheat on Master KG and must not come anywhere near her man Mampintsha.
Watch the rant below: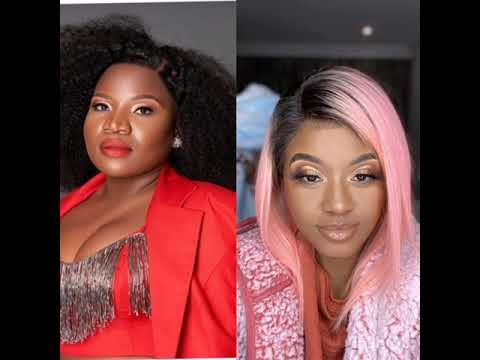 On Instagram Live,
Babes Wodumo
went on a rant and cussed her mother-in-law out and said all sorts of nasty things you can think of. The star had her fans worried as some thought she was having a mental breakdown whilst some think she was drunk.
In the video, Babes accuses Zama of abandoning her son
Mampintsha
when he was only 3 days old. She also addressed the time when she referred to her grandson as spontshi, but Babes said the sponge messes it's diapers and does all the things a baby does.
"She mustn't f***k with me, I'll fetch her. She's drunk," says Babes who then phrased her husband Mampintsha who defended her and said she was drunk, she did not mean it. However Babes said she is drunk from the s***t she was talking.
Babes then threatens her mother-in-law with thugs saying she will send thugs to her home to attack her. She said
The Gqom superstar then says Zama informed them that she is now working but still asks for money from them. After everything she has said about them to the media, Babes still felt obligated to giver her the R1500 she asked for like nothing happened.
The Live continues with Babes saying Zama never apologised to her family for all the hurtful things she said about them. In fact, Zama apparently demanded an apology from Babes, which made the star even more mad. Babes then said all the cuss words that came to mind including b**ch.
"She said I must apologise, why should I apologise? This dog is drunk. She is saying I should apologise when she has never apologised to my family. This b***h," said Babes who then apologised for calling her mother-in-law these cuss words, but continued to do so.
Babes said she is from Lamontville so she is not to be messed with. She then proceeds to pray for her food but the rant does not stop there.
The star prays her son does not take after his grandmother because she apparently abandoned Mampintsha when he was 3 days old at a door. Despite her husband speaking for his mother, Babes said she and her family will gang up on her and attack her.
Watch her rant below:
Mampintsha's mother went on Facebook live a few months ago and said her
daughter-in-law's
family is homeless and that she prays Shimora gets the protection he needs from the "homeless" Simelane family. She claimed that
Babe's father reverend Simelane
is a fraudster disguised as a man of God. That's not all, Nondu Simelane, Babes' then-pregnant sister was labeled a wh*re and she proceeded to make fun of the baby. She then took aim at Babes' mother saying she should have contacted her as women and told her about the
wedding arrangements.
"Why are they
[Showmax]
being ruled by Babes? Who is Babes because she is desperate for marriage with a non-existent pregnancy. She must give birth already, and stop using sponges. I am waiting for my twins that she promised to give birth to," she said in the video.
A few weeks after, Zama took to the papers to apologise for speaking ill of Babes. "At the end of the day, she is my daughter-in-law, and we have to iron out issues and move past. Mandla is my son, and if he chooses Babes Wodumo, then there's nothing I can do. I want to apologise to her in person, and we move on as a family. I want to be a responsible mother to both of them," she told
Briefly News
.
But that was after Babes said she would be pressing charges against Zama,
"
I am going to press charges against her for humiliating me in public and for swearing at me. I don't understand why she is dragging my name in the mud."
"I am pregnant, whether she likes it or not. If she has problems with it, she must deal with it. I am hurt about this. I know most of the things she says when she is drunk should not be taken seriously, but this time she has gone too far. I am going to press charges against her. I want her to clear my name," Babes told
Daily News.
Read next:
The Real Reason Babes' Concert Did Not Take Place
Image credit: ANMG