We were never ready for the all the drama that unfolded on Twitter in the past 12 months.
Some tweeps learned the hard way that if you can dish it, you better able to take it.
These Twitter clap backs had us either falling on the floor laughing or applauding their sheer brilliance.
Check out some of the best clap backs of 2015 below.
Fikile Mabu
Sports Minister Fikile Mbalula was the king of the clapback this year. Most government officials are careful about what they say on social media, but not Fikile, he speaks his mind 24/7. His Twitter antics got so bad at one point, a respectable US newspaper had to call him to order. He is sometimes ungovernable on social media, but that is why his followers love him so much. Here are some of his best clapbacks.
After being slammed by the Washington Post for bragging about SA beating the USA 64-0 at the Rugby World Cup.
When Mr Simpsons finds out the @washingtonpost has lost its sense of Humor #USAvsRSA pic.twitter.com/HpgLziYuld

— RSA Min of Sport (@MbalulaFikile) October 8, 2015
When a senior reporter questioned his dress code.  
No Honorable Tweeps, the child is not mine but is blessed by God to look like SA's Razzmatazz ... pic.twitter.com/rvsITmwbtX

— RSA Min of Sport (@MbalulaFikile) May 6, 2015
On planet earth RT@Evanszwanga: Mbalula arrived in Alice today rocking timberlands to address SASCO students, where does he think we are ?

— RSA Min of Sport (@MbalulaFikile) April 29, 2015
When he was mistaken for a middle-aged woman.
I understand, ubuhle bethu as yellowbones is not liked. One thing is for sure, I'm not about to Bruce Jenner Mzantsi pic.twitter.com/mkTNOJyS9z

— RSA Min of Sport (@MbalulaFikile) May 5, 2015
When Gareth Cliff questioned his credibility.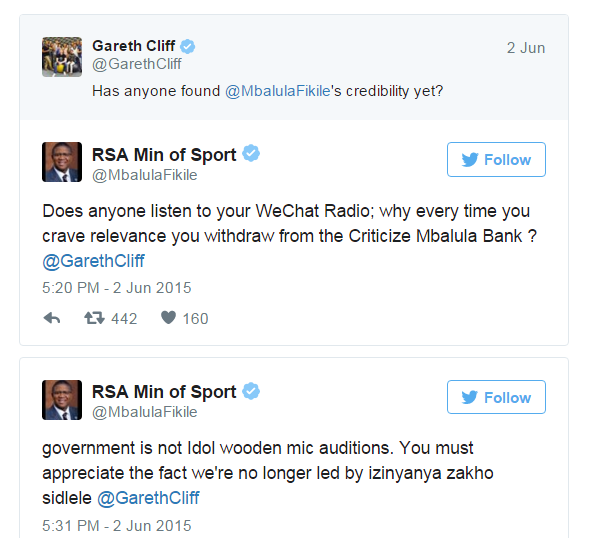 City of Joburg
The City of Johannesburg's Twitter account, @CityofJoburgZA, received scores of queries and complaints every second of the day. The accounts social media manager, Tumelo Komape, who is better known as TK, has had to take a different approach to dealing with angry residents.
When a tweep described Joburg as a "the world class African filthy city".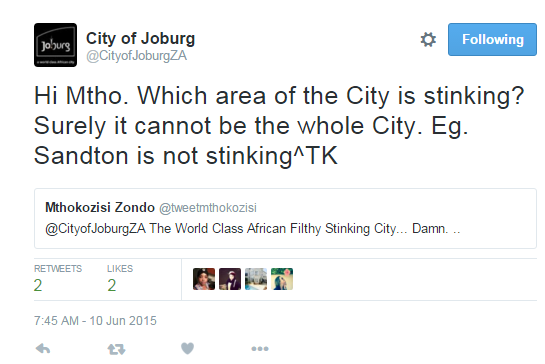 When he got thrown off by a bit of Afrikaans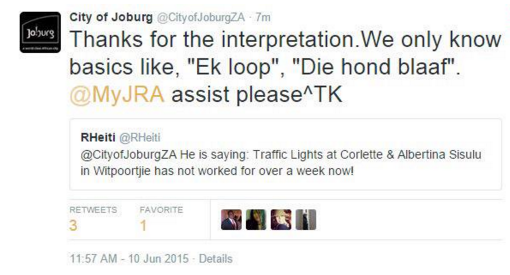 Ntsiki Mazwai
Ntsiki is the queen of clapping back at people who were simply minding their own business. It seems she had a problem with everyone and could not help ranting on social media about it.
When Lira won a SAMA award in 2010, and Ntsiki decided to throw shade in 2015.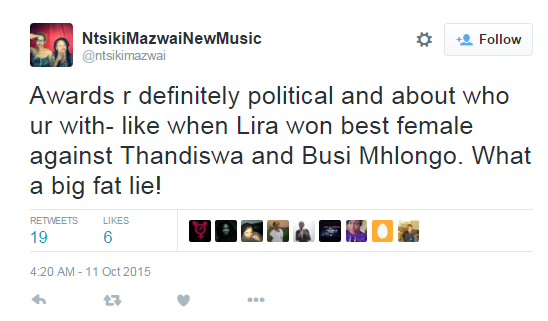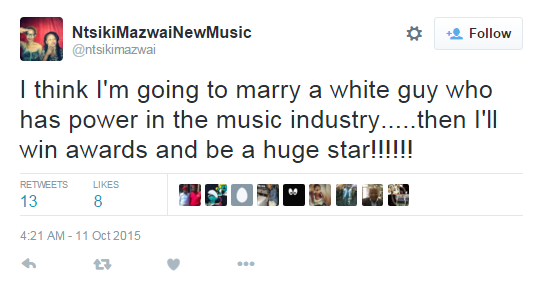 When Sports Minister Fikile Mbalula said Ntsiki smokes weed in response to comments she made about him (read from bottom up).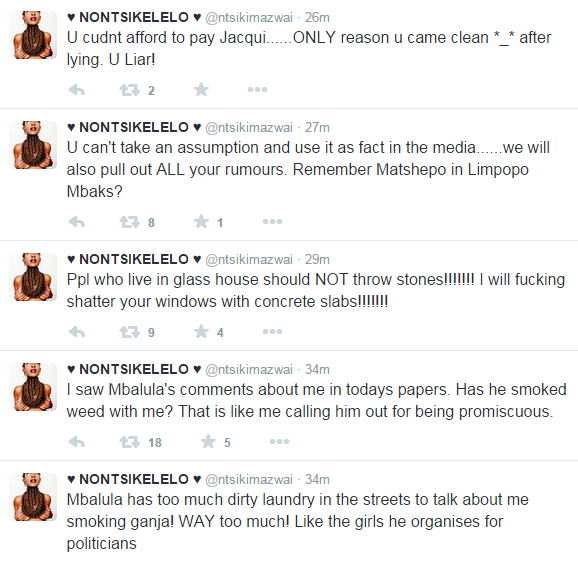 When Pearl Thusi said she only had one song.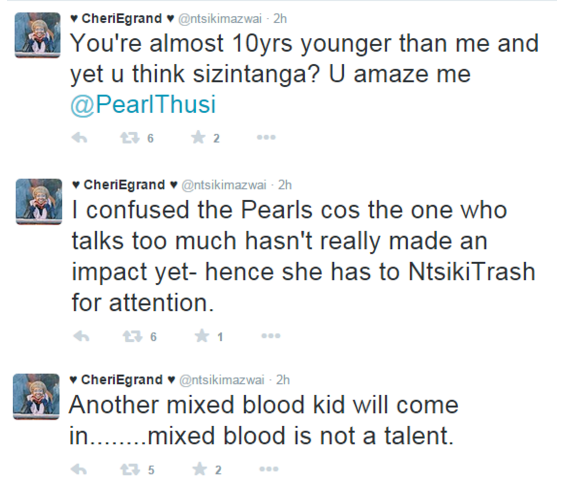 Image credit: Instagram