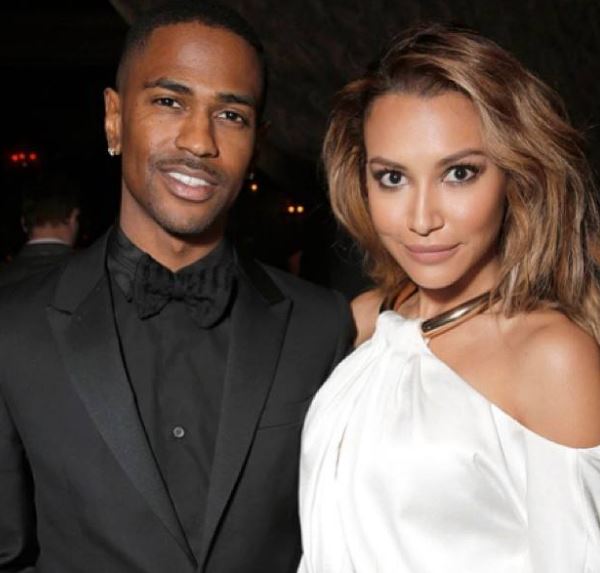 Big Sean and Naya Rivera have called off the wedding. Well then- we're not entirely sure we saw this one coming. Last year they were all lovey dovey at award shows & events to the point where it actually made us sick with jealousy. This year it seems as if the rapper and Glee star's relationship is now a thing of the past.
The latest gossip doing the rounds in the Hollywood streets is that sexy chikita Naya Rivera is single again (Whoo hoo!) after Big Sean cancelled their engagement.  We may not have seen the breakup coming TODAY but we had our doubts even before Naya said yes to Sean's proposal. He IS a rapper after all and he probably has a minimum of fifty women throwing themselves at him on a daily basis.
Close sources from his camp have revealed that the pint sized rapper (Whose name becomes ironic when you consider his size) was upset by Naya's constant cheating allegations. A source close to Big Sean also explains that Naya was controlling and although Sean gave it a chance, the relationship was never going to survive because of that. 
Sean's publicist came out and said: 
After careful thought and much consideration, Sean has made the difficult decision to call the wedding off. The recent rumors and accusations reported by so-called or fake sources are simply untrue Sean wishes Naya nothing but the best and it is still his hope that they can continue to work through their issues privately. We will not be commenting again on this matter.
We're no relationship experts, but this statement has so many loop holes in it that have us asking many questions.  What are these issues that have lead the couple to call the wedding off? Have they officially broken up?  Sean and Naya we need answers! Maybe Sean found himself a pretty young thang here in Mzansi and has decided to call it quits.
Meanwhile, there's a screen shot that is circulating around the internet, although we can't comment on whether it's real or not since the original was supposedly deleted. Naya seems to have sent out a rather shady subliminal tweet to Sean, accusing him of Stealing her Rolex watch- oh my.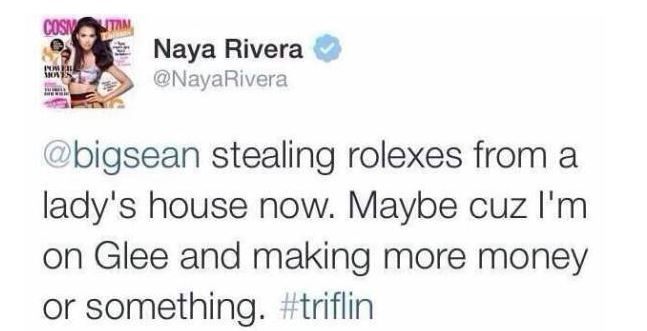 Sean's people have once again responded (Sean's people are excellent at responding!) and declared that the watch was in fact Sean's and not Naya's and that he never let her keep it (Which, we suppose, does verify that the tweet has truth to it- even if we didn't see it tweeted).
Oh well; who can get us Naya Rivera's number? 
Image Credit: Twitter and Facebook/Big Sean