Cassper Nyovest is not a happy chappy right now.
This comes after the rapper was rumoured to be dating actress and DJ Sphectacula's ex-girlfriend Fezokuhle Zulu. According to Sunday Sun, Sphectalua and his friend, Metro FM co-host DJ Naves, have "banned" the Doc Shebeleza singer from their lives. 
That's already sounding quite petty, right? But it gets worse; Sphe also reportedly decided to remove Cassper as the headline act for his party at Taboo on Friday. The paper goes on to say that Sphe and Naves have decided to stop playing the rapper's music on their show.

Naves told the paper that Fezo and Sphe have been separated for almost a year and that there's no beef between them and Cassper.
Fezo told Sunday Sun: "I've been separated from Sphe for nine months now. I'm always with Cassper these days, but I doubt Sphe will do something like that. I'm shocked."
Cassper told the paper that he and Fezo are just friends. But it didn't end there. The rapper took to Instagram to talk about what he labelled as "Poor Journalism".
He wrote: "These reporters think they can just write lies about us in the papers and apologize a week later with a piece in the corner of a back page. 2 stories about me which were both lies were published about me today, one being that I've got a new girlfriend and I'm fighting with @sphectacula . The 2nd which actually pissed me off is that I crooked @justfenesse, a lil kid who produced doc Shebeleza..." 
He added: "These people don't care about the damage their lies do to our businesses when we are trying to feed our families. If you also have questions..."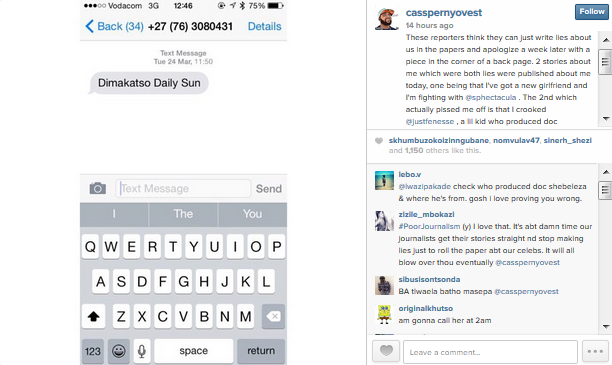 Wow; that's quite crazy. Who said it's easy being famous?