Cassper Nyovest and Riky Rick have proven that hard work really pays off.
The rappers, who are enjoying the success of their first albums, have come a long way in the music industry. Cassper's Tsholofelo album recently went platinum, while Riky Rick's Family Values album is also receiving great feedback from fans.
They have even made an impression on Nandi Mngoma, who even publicly acknowledged them. She took us way back in the day to when Cassper and Riky were trying to crack it in the cut-throat industry.
She wrote on Instagram: "I remember @rikyrickworld I think about 4 years ago (If not more than that) giving out his DOPE mixtapes to myself and many others, and that mixtape was so dope.. My mom even liked it… Off course some songs I skipped..."
She continued: "I remember this cheese boy who all the girls from the private schools used to love and fight over (Yes ladies have ALWAYS loved Riky lol!). But this guy always used to produce these amazing beats (I still want my beats Riky)."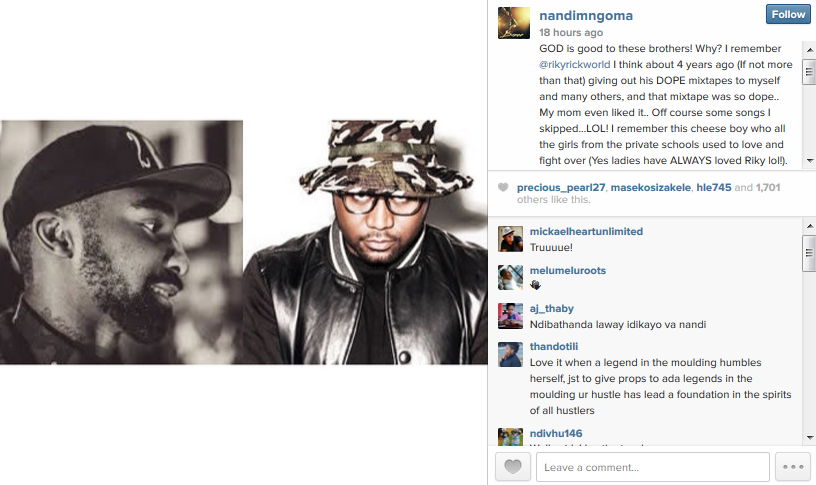 She recalled calling Cassper about three years ago to speak about a producer. "… Who screwed both of us over as two kids hustling this music thing with NO money."
Nandi said both rappers have been at it. She added: "Success definitely isn't over night and they deserve all the success they're getting now. As I know first-hand, how hard they have BEEN hustling. Big up to these brothers. Support them! This is their passion. #Proud #NotIndustryTalk #RealTalk."