Oh, Christopher! Just when we all thought you were on your best behaviour, you flipped the script on us and returned to your worst behaviour (sigh). On Friday night (5 June), international reports revealed that Chris attempted to reconnect with his ex-girlfriend Karrueche Tran after he had bumped into her at a club called the Playhouse in Los Angeles.
Annoyed by his shenanigans, Karrueche immediately left Playhouse, but Chris was having none of that! Numerous pictures of Chris trying to talk to Karrueche are splashed all over the internet right now. If you look carefully, the red jacket that Chris Brown was wearing consists of the South African flag, and written on the side is a well-known quote from our late, former President Nelson Mandela. Eish mara, Christopher! Couldn't you have worn a Miley Cyrus jacket at least?
Anyway, whilst trying to talk to Karrueche in the streets, Chris decided to force himself into Karrueche's ride. In a video taken by international gossip site TMZ, you can clearly hear Chris telling Karrueche's friends to move to the back as he attempts to sweet-talk his ex-girlfriend back into his life. According to sipthetea.com, Chris and his friends were eventually dropped off around the corner a few minutes later, but the cat and mouse chase continued as its been alleged that the pop star even drove to Karrueche's house at 3:00am in the morning pleading for her to open up and speak to him.
We love ourselves some Chris Brown, but this right here was not a good move from the pop star, who in April shocked many when he revealed that he indeed has a baby girl with another women, a secret he kept from Karrueche from months on end. But knowing these two, they'll probably get back together again. As for that jacket he wore? We're still cringing.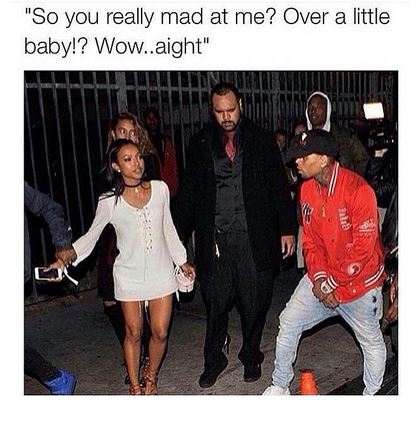 In the meantime, if you missed out on Chris Brown's SA tour concert, make sure you check the video out right here.
Image Credit: Sipthetea.com