The second season of one of Mzansi Magic's most controversial reality shows, Diski Divas, hit our television screens on Wednesday night.
Since the announcement of the second season was made there has been so much excitement from its avid viewers and the media, due to the drama it brought in the first season.
What added even more drama was the fact that Nonhle Ndala would not be appearing in this instalment of the show. But honestly, we thought they should've brought her back, she added so much spice to the show.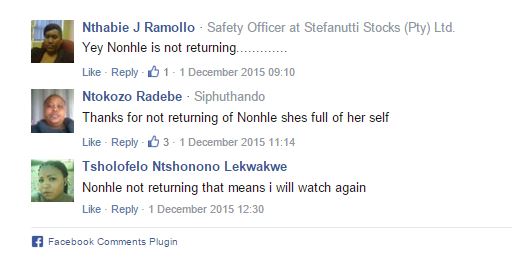 However, Wednesday night's show did not hold up to the expectations as some viewers felt like the show was, erm... lukewarm.
Watching #DiskiDivas pic.twitter.com/rjsQx4pqDv

— Toolz Dube (@_Toolz) January 13, 2016
After that first episode of #DiskiDivas pic.twitter.com/DnOB6Ar1iJ

— Tshepi Vundla (@TshepiVundla) January 13, 2016
...what did we just watch? #diskidivas pic.twitter.com/pRzmTWQIwH

— 'Miss Kay' (@Keratilwe_) January 13, 2016
Some viewers also felt like it was unnecessary for the Diski Divas to be subjected to speaking English all the time, as it proved to be difficult to hear what the ladies were saying. 
No shade, but are they obligated to speak English? If so could we please be provided with subtitles all the time. #Diskidivas

— B Khumalo (@herr_b_khumalo) January 13, 2016
So much preja, Oops! I meant pressure. sekgowa se robetse ka hier #DiskiDivas

— Ari Gold bicheeez! (@GQueZA) January 13, 2016
Maybe the likes of Wendy Parker, Kat Mohoadube, and even Nonhle Ndala should return to add some more pizzazz to the show? But then again  this was only the first episode of the new season, let's see what the second episode has in store for us before we cast judgement?
Image Credit: Supplied