It's been on everyone's lips this evening, the Forbes Magazine cover of DJ Sbu was earlier on confirmed to have been fabricated.
The magazine had confirmed that it was made aware of the fictitious cover, featuring DJ Sbu holding his MoFaya energy drink, on Friday. Thus leading it to the release of their statement clarifying the originality of the cover:
"The cover in question was fabricated by DJ Sbu and is in no way an endorsement by Forbes Africa or its affiliates. The fabricated cover bares resemblance an October 28, 2013 Forbes US cover featuring Twitter CEO Disk Costolo," Said the magazine.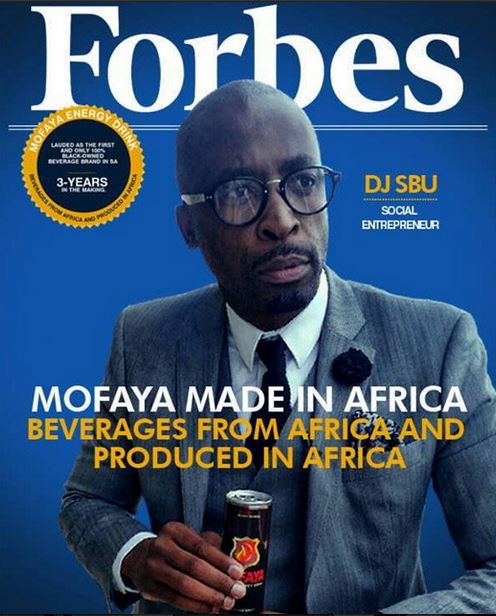 702 interviewed first, Forbes Magazine editor, Chris Bishop about the cover that is on everyone's lips at the moment and here's what he had to say:
"One morning we woke up and all of a sudden there's this cover that we know nothing about, endorsing a drink that we know nothing about. People were asking me sending me messages about this cover and I had to say no, we know nothing about it. " Said Chris.
The entrepreneur and radio personality then defended himself during an interview on the Money Show with Bruce, clarifying that he had nothing to do with creating the cover.
"You need to remember the struggles of small businesses in this country, I did not fabricate any cover, I see images of myself on social media all the time. I am extremely disappointed in Forbes' Chris Bishop for issuing that statement. I am extremely hungry; I don't conform to the rules. I saw the image, it's brilliant, and I retweeted it." -  Said DJ Sbu
Here's more of what DJ Sbu had to say about the cover: