Uhm... this is awkward.
Forbes Africa has no time for DJ Sbu's publicity stunts. This was proven after the magazine quickly made it known that it had nothing to do with the DJ's Forbes cover. A picture of the DJ on the cover of the magazine has been making the rounds and it turns out, it was photoshopped. Wow!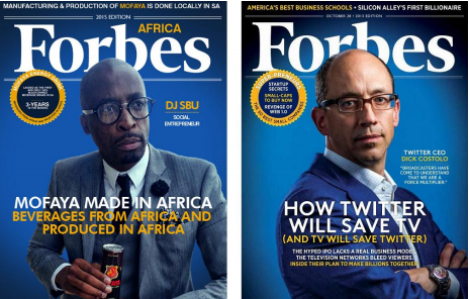 In a statement, Forbes said: "On the 20th of March 2015 Forbes Africa was made aware of a fictitious cover being shared on social media of Sibusiso Leope, also known as DJ Sbu. The cover features the entertainer and an endorsement of Mr Leope's energy drink.
"This release is to inform the public at large that the cover in question, depicted above, has been fabricated by Mr Leope and in no way represents or warrants an endorsement by Forbes Africa or its affiliates."
The DJ proudly posted the picture on Instagram and captioned it: "The most spoken about energy drink in the market. I did warn them last year ukuthi uyeza umlilo (the fire is coming)..."
Sbu's fake cover came shortly after he was featured in a Forbes article last week. The article was titled Made in Africa: Beverages From Africa and Produced in Africa" and it spoke about his Mo Faya energy drink.
Do you sitll think that any publicity is good publicity?