Rapper Jub Jub
rocked the nation a few months back when he alleged, on
Podcast and Chill with MacG
, that his ex and baby mama
Kelly Khumalo
uses dark magic (or
muthi
). But now as a video has emerged of her acting strange by the riverside, fans are wondering whether it proves the allegations.
A video recently surfaced online that shows The Voice of Africa taking a stroll by the roadside, next to a river. She is then seen jumping over the guardrail to the riverside, where she stops to stare out into the water for a while. Finally, she throws a coin into the river, before walking away,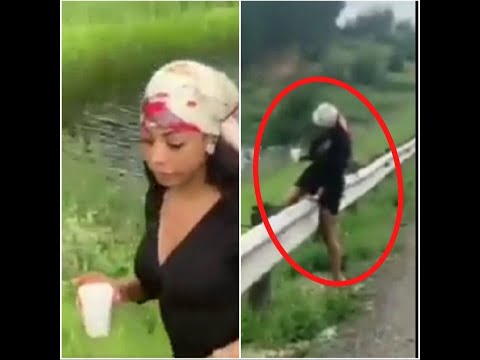 The video, which is not exactly new (Kelly shared a snippet of herself walking that same route in the same outfit some time back), has now been interpreted as proof that she uses muthi.
Of course, she could simply have been making a wish as many do. Just because she threw her coin into the river rather than into a fountain does not automatically mean she was practicing muthi.
Even so, social media has run wild with the idea that the video represents some form of magic, and tweeps are divided on whether it's a good thing or not.
Some think that there shouldn't be any issue with her using muthi, whether or not that's what the video represents. After all, she is an African woman, and she is entitled to commune with her ancestors by using African magic if she so wishes.
Read also:
Advocate Reveals Startling Discovery In Senzo Meyiwa's Murder
On the other hand, others think that using muthi makes her dangerous. They feel like they are not surprised that Jub Jub's allegations have been proven by the video, as they have always thought she was capable of using dark magic.
It is quite the change of tune from the response Kelly got when the allegations were first made public on the podcast. At that time, she received overwhelming support, as her fans even called for her to sue Jub Jub for defamation, saying that such accusations could potentially be damaging to her image and career.
The Empini hitmaker recently topped trends for an old interview she did with MacG on the same platform, where she spoke about her two baby daddies. She told the podcaster that Jub Jub was not in their son Christian's life, even though she had not prevented him.

Following the interview, she was dragged online extensively, as tweeps felt like she was dwelling on the past so much, to the point where she was sabotaging her son's relationship with his father.
Through all the drama, Kelly keeps her head cool. She has been focusing on her family, loved ones and career, and we love to see it.