The Premier's gala dinner hosted in partnership with KZN Creative Industry to honor and recognise entertainers from KZN, turned chaotic after a few KZN artists voiced their grievances with the local government.
The dinner was hosted at Coastlands Hotel in Morningside on Thursday night. 
Things took a bad turn when some KZN artists boycotted the dinner and complained about the criteria used to select those who were to be recognised.
Chaos erupted seconds after eThekwini Mayor James Nxumalo got off stage. He praised the entertainers and bragged about how the KZN government has always been in supportive of artists from the province.
However, Lvovo Derrango's manager, Sithabiso Dladla, did not share the same sentiments.
Dladla got onto the stage uninvited and embarrassed the Mayor, by calling him a "liar".
Fellow artists such as the likes of DJ Bongs, Sosha and Lvovo supported him and continued making noise.
"I know I am unknown but what I am about to say is very important. Your Mayor is a liar, he is lying to everyone here. Government is not supportive of the industry but instead they book artists from other provinces leaving us behind, he is lying," said Dladla.
Security guards intervened by grabbing him off the stage and threw him out of the conference room. Lvovo Derrango and other artists were also escorted out. 
However, they continued causing chaos outside and the SAPS were called in.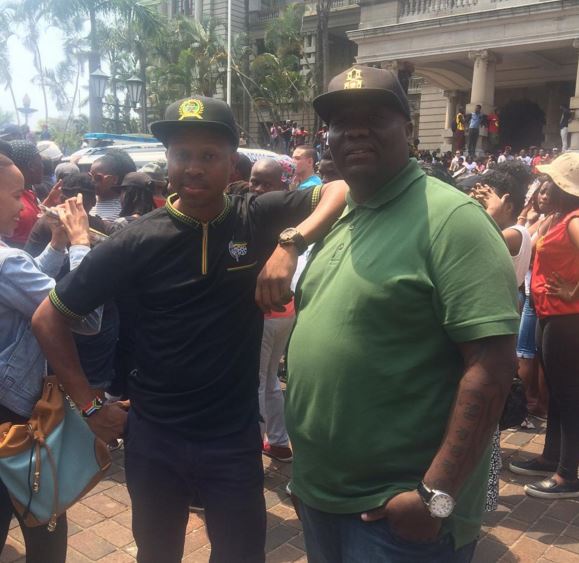 Commenting on yesterday's chaos, Lvovo said the government betrayed him.
"The government chose to recognise only a selected group of artists and left me out and I find this very unfair. I publicly disclosed that I was ANC as a result, other political parties don't book me, but now  the government I am supporting is not booking me either, I don't understand how can he recognise people who only have two years in the industry? I have been in the industry for 10 years and the only artist in KZN who has won an award for the song of the year at the Metro FM Awards," said Lvovo.
DJ Bongs said the they had planned to disrupt the gala dinner.
"The problem is that government is selective, we heard that only selected individuals will be recognized for their roles and we found this to be very unfair because our names were not on the list, everyone knows I have been representing KZN for many years, but government is not supportive of my work. We are fighting for the next generation, government should stop being bias," he said.
Sithabiso said he didn't regret his action.
Those who were supposed to be recognised at the gala dinner include DJ Black Coffee, DJ Tira. Both DJs did not attend. 
Meanwhile, DJ Merlon, DJ Cndo,  Zakes Bantwini, Sifiso Ncwane, Professor, Dumi Mkokstad, Khaya Mthethwa Dumisani Goba, Cebo Gama, actress Jessica Nkosi and soccer players Siyabonga Nkosi as well as Brilliant Khuzwayo were all honoured.
Image Credit: Instagram @Lvovosa