Lerato Kganyago
joined the
Podcast And Chill With MacG
team and she was a breath of fresh air to watch. The radio personality spoke about a variety of things but since it was not a celebrity edition she joined the team in discussing some of the trending celebrity topics.
Read more:
Lerato Kganyago Calls DJ Zinhle Out On A Lie
Lerato then spoke about her
rumoured beef with Bonang Matheba
after it was claimed that Bonang left because of her. Lerato described this period as a very dark time for her on radio because of the sinister rumours.
If you may recall, when Bonang was doing radio she hosted
The Front Row on Metro FM
in the year 2017, she was notified a few hours before her slot of changed within the station. When she found out that Lerato was joining the immediately quit.
This made people wonder whether Lerato was the reason Bonang suddenly quit and she was going through the most that time. She claimed to have wept for days on end.
Read also:
Lerato Kganyago is done talking about Bonang Matheba
MacG even brought up this issue and Lerato clarified what had transpired.
"I think my darkest moment and I'm not trying to blame anyone, but it was the day when I actually did the show with Bonang on that day I got blamed for her leaving the show.
"I stayed because I wanted to and radio is what I f***n love do you understand. I'm not going to compromise my f ****n meal for somebody else, because if the table were turned, you wouldn't do the same s**t," she said.
With all that was said, Lerato said she and Bonang are not beefing whatsoever and they are in good terms. LKG reckons that her success and promotions are because she works hard and helps out other people so they saw her dedication.
Her next prize is hosting the drive time slot in the afternoons which is from 3PM to 6PM.
Lerato also spoke about her rocky relationship with DJ Zinhle and called her former bestie out on a lie. Zinhle told Toke Makinwa on her Honey TV talk show, Talk With Toke Makinwa,
that she was never invited to Lerato Kganyago's wedding
and she did not know that she was getting married.
"One, I didn't know she was getting married and two she forgot to invite me," Zinhle laughed.
Lerato said she was left heartbroken by this and clarified what happened between them. LKG said Zinhle is opening up a can of worms by continuously speaking about this.
"That left a very bad taste in my mouth because Zinhle and I are like sisters. I was disappointed of the fact, she actually even answered that question...my manager actually sent me the clip and that's like half truth, you know what happened. She does say she was invited, but what happened after that or before that is the question... At that time because my friendship with all the other girls was like just a bit offish, she was the only one I invited, because she is my girl and I've always been loyal to her and I'll always be loyal to her."
She then explained that everybody in their group of friends were going through a very rough patch but to her it felt a bit offish. So she explained that she feels as though she could have expressed more openly. Lerato then clarified that it was not a wedding at the time but it was more of a celebration, "I distanced myself from everything else. It wasn't even a wedding it was just a celebration, I still didn't have my traditional wedding or a white wedding it was just a celebration."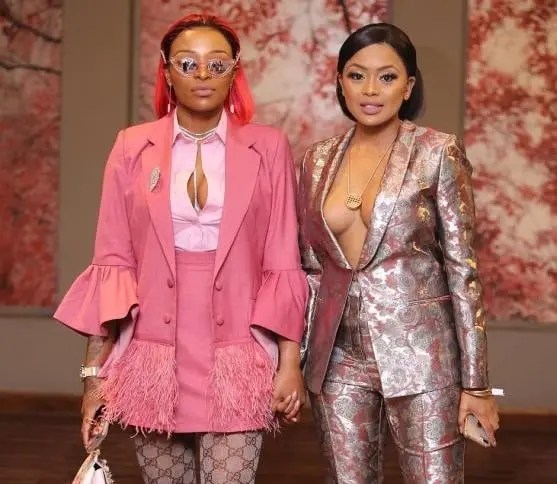 Read next:
DJ Maphorisa To Grow Up
Image credit: ANMG