Maps Maponyane was never ready for the wrath of "Xhosa Twitter". 
His tweet about Xhosas landed him in hot water and all sorts of insults were directed at him. The Tell Me Sweet Something star, who meant his comment as a joke, clearly didn't anticipate the reaction. 
Here's the tweet which has since been deleted: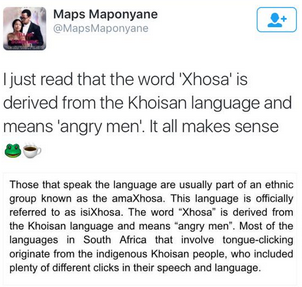 Err... his "joke" didn't sit well with some people and that resulted in harsh comments about him, his career, and just about everything else.
Maps Maponyane's tweet is further proof of the legacy of the colonial tactic if divide and conquer. Did he ask himself who wrote that BS?

— #EndOutsourcing (@valavoosh) October 13, 2015
What does maps maponyane do besides wear glasses?

— King Wavvy (@caseywaves) October 13, 2015
Brother @MapsMaponyane you moved us away from Emotional Twitter, to Angry Twitter. #Salute 👊

— King TP (@Brother_TP) October 13, 2015
😂😂😂😂Fam"@zukoZEKA: Maps Maponyane forgets we tolerate his father's dodge analysis on TV screens"

— #SURFIN16OCT⭐ ZanD ⭐ (@Zandisile0071) October 13, 2015
He apologised for his comment, even adding that it was stupid.
Deleted my tweet because it was stupid. It wasn't aimed at offending anyone. Apologies for what was clearly not thought through. I'm sorry.

— Maps Maponyane (@MapsMaponyane) October 13, 2015
Sjoe!
Image credit: Instagram