Master KG
has taken upon himself to clear his name after
Nomcebo Zikode
took to social media today to release a statement claiming that she has not received a cent for Jerusalema. Open-Mic Productions has also released a statement to set the record straight.
Rubbishing the claims, Master KG said Nomcebo demanded more than they have agreed on.
He tweeted: "Agreement Of Jerusalema Is 50/50 Between Me And Nomcebo But Wants 70% and I Must Get 30%"
On a now-deleted tweet, he also mentioned that
Nomcebo
received over a million Rand for the song so far.
"Can you confirm that you received R1.5m so far from Jerusalema? and before I explain many things you guys haven't paid me for Xola Moya Wami...And again, Nomcebo can you tell these people that you are demanding a bigger percentage than mine on this song?"
Master KG also clarified that he is not saying the song only made a total of 3 Million after a tweep commented that there is no way that Jerusalem only made 3 Million on Royalties with all the diamond statuses from different countries.
He responded:
"Who said the song made 3M??? You Don't even Know if the R1.5M I'm talking about Is for Publishing or The Master yet You Concluding Things...Anyway, I Believe When The Time is Right Everyone will know the truth There's Nothing to Hide Here I'm Tired of Being Hated for lies."
In another tweet, Master KG said Nomcebo started running to the papers after he started his tour a few weeks ago.
He said:
"Last year Nomcebo started Jerusalema tour without me and I never had a problem and a few weeks back I started my tour and then Nomcebo went to the media and created a story that I'm leaving her behind ... I don't really know why things must be like this."
Read below the Open-Mic Productions statement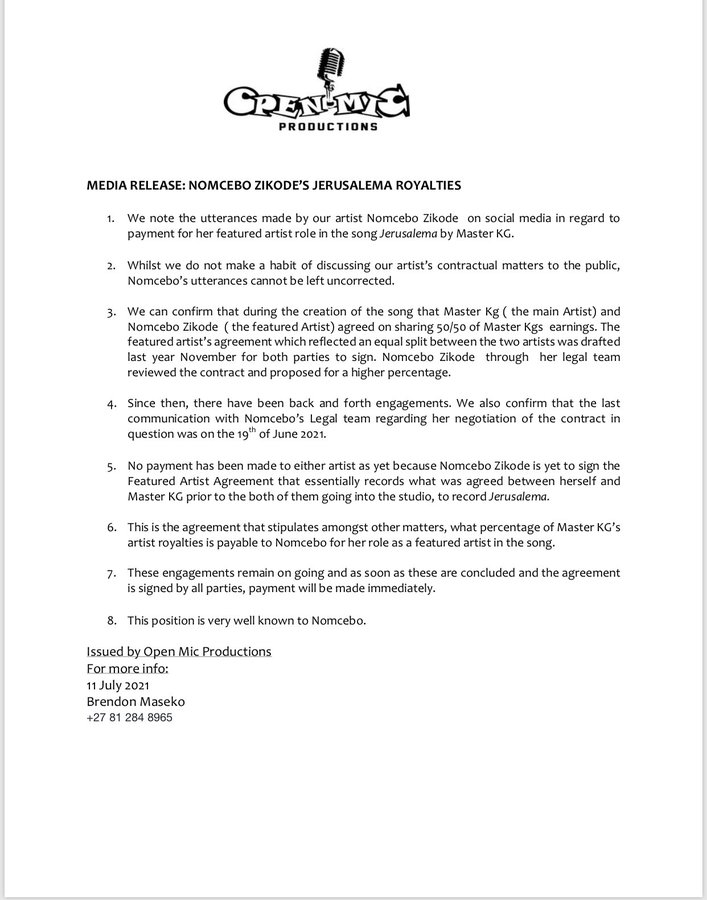 In the statement released this morning, Nomcebo said she has taken legal actions.
The statement read: "Thank you to all the fans of #Jerusalema, you have made my dreams a reality, with attaining a global hit song. My voice and lyrics have transcended globally, but I still await what is due to me"
"
I have not been paid a cent by the label for
#Jerusalema
despite the song's global success. I have been ridiculed, with efforts to marginalize my contribution
"The continued love and support from the fans of #
Jerusalema
have been her strength and anchor during this difficult time.
I, as a female artist, can't stay silent on this anymore. The matter is now with my lawyers."

Read Next:
Ngizwe Mchunu To Address The Nation

Image Cred: Instagram