A page titled fake_guccicommunity on Instagram is working overtime to expose celebrities who have been spotted rocking
fake Gucci
items.
Recently, the page has called out numerous celebrities including Big Zulu,
Somizi Mhlongo
, Brenda Mhlongo, and many more.
Here is the list of some of our favorite ZAlebs who have been exposed so far.
1. Brenda Mhlongo
According to the page, Brenda's Gucci bag is fake
"I spy with my little a fake! @brendamhlongo my sister, even Ray Charles can see that you carrying a fake bag. Maybe we can ask the Ferguson's to up your pay so you can come pay Diamond Walk a visit."


And that's not all the page also called her out for a fake Gucci belt.
"Another one bites the dust! @brendamhlongo is coming through with the small street combo We already exposed her last week. Now, this week she decided to pair her FAKE Gucci bag with her FAKE Gucci belt. Please @deluxedesigners_ is she your top client? Let us know our DM's are open," the page added.
2.Omuhle Gela
"Our favorite actress and DJ omuhlegela has been spotted wearing a fake Gucci bucket hat. #fakecity
" wrote fake_guccicommunity
3. Mampintsha
The page claims that
Sponge
's father was spotted wearing a fake reversible hat.
"Big bro @mampintsha_shimora have been spotted wearing a fake Gucci reversible hat. Durban is slowly turning into #fakecity"
4. Big Zulu
"Eish @bigzulu_sa I'm not sure what happened here or maybe it was a gift but I'm pretty sure Gucci doesn't sell this,"
posted fake_guccicommunity
6. Somizi Mhlongo
Somgaga also made it to the list, the media personality was allegedly spotted wearing a fake bucket hat.
"Accused Number 2: @somizi I did not see this coming? Fake products from the Somizi. I hope you were just an innocent consumer who was scammed into thinking this was real. Either way, it's fake!"
However, Somizi rubbished the claims, the TV star even went to a Gucci store and took a video of his profile to prove that he is not one to wear fake.
He was granted some time off a few days ago.
The Corporation tweeted: "The SABC can confirm that @METROFMSA
management met with Mr. Somizi Mhlongo and he has requested to take some time off from work. Management has granted Mr. Mhlongo permission to do so.
"The SABC has also noted the comments on social media about Mr. Mhlongo and we would like to point out that the public service broadcaster does not condone any acts of abuse and violence,"
tweeted the SABC.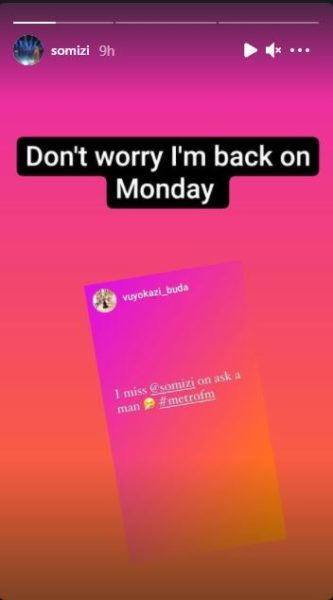 Read Next:
Letoya And Leo Celebrate Anivesary
Image Cred: Instagram