If we didn't know any better we would say the previous episodes, including this one, carried subliminal messages aimed at informing side chicks that it's possible.
Millicent, 38, also holds testimony that being a side chick sometimes does eventually pay off.
We actually liked how Lucas, 45, proposed with a Cadbury wrapper and bought a ring when he had enough money. What we also found fascinating about their meeting is that he kept pushing Millicent for affection while he knew there was someone else. Such things make us question the levels of loyalty in a person or lack thereof.
Irrespective of what we think or don't think, this couple went on and had their wedding sans drama, even though we felt like some parts of the wedding were a bit dull.
In most cases, it's a given that the bride's mother will be carried away and will want to take over the planning because they want to ensure that their child has the perfect wedding. But Millicent's mom took it up a notch and we don't understand why she had to be so immersed in the planning, because it's not like this was Millicent's first wedding?
Millicent's mom chose the wedding gown. It was just a dress, nothing to write home about. Had Millicent insisted on choosing her own dress, she probably would have made a better choice. However, we loved Millicent's choice of shoes, we agree that All Stars are not particularly what you would wear with a wedding gown but what's the point of wearing heels and end up waddling?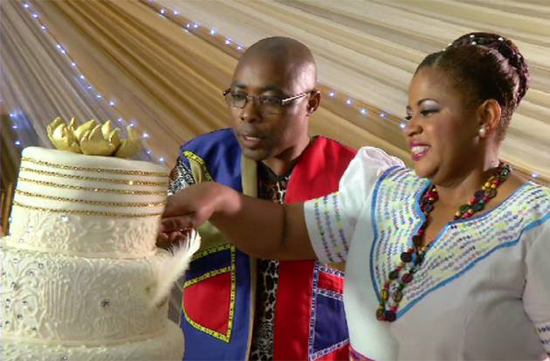 The mother also had a say on the cake. Yes, we agree the cake was beautiful, but we still feel like parents in general should give their opinions but let the children decide on what they are happy with.
Just when we thought it couldn't get any worse, the mother chose the décor and paid for it. Millicent and Lucas didn't have a say on how the décor should look, if it's anything unacceptable, they only saw the décor on their wedding day. This is worse than slavery, maybe this couple didn't think it's a big deal because they were both tying the knot for the second time and the excitement wasn't that piercing?
The only thing the mother didn't have a say in was the groom and groomsmen suits. We are still scratching our heads about the groom's look. Okay, the suit fitted him well and he looked good in it, but it's just that there was too much black dominating for a wedding. The groomsmen suits were a total mishap, inspired by Muvhango KK's wardrobe.
Finally, Millicent had the privilege to choose the bridesmaids outfit, and she messed it up. Their shoes were wrong and their dresses were hideous. Maybe she should have left her mom to decide on everything?
How can we forget the moment when Millicent went into a trance when walking down the aisle and Lucas also having his moment during the wedding vows? That was crazy and funny to watch.
We give this wedding a five because most of the things were planned by Millicent's mother and the little planning we saw from their side was not up to standard.
Image credits: Facebook/#OPW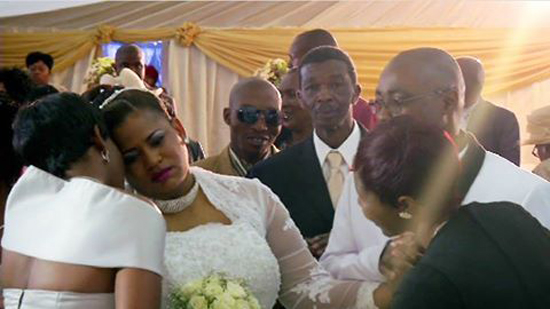 Image Credit: Facebook