South Africa's opulent gay couple Somizi and Mohale's 4 part wedding special
Somizi and Mohale: The Union
episode 2 finally aired yesterday after what almost felt like an entire decade.
The glossy episode gave viewers a front-row seat into their incredible ideas to pull off their extravagant white wedding which became the talk of the town.
The episode highlighted their groomsmen party, bachelor parties and all things pertaining to their wedding preparations. This week, again, the wedding special did not disappoint in setting the bar high.
Somizi and Mohale: The Union
only premiered last week but to date, it has racked up some fabulous views for being the most-watched series for its debut on
Showmax
. The wedding special has proven to be one for the books and we stan!
If you haven't binge-watched the episode with us, don't worry we've got you covered with 8 highlights from
Somizi and Mohale: The Union
episode 2.
1. Wedding Theme

Somizi and Mohale's white wedding theme became the talk of the town when the two finally got hitched. This is due to the fact that we have not seen guests at a wedding dressed up in their own wedding outfits before. The theme was very unique and sophisticated as it gave guests an opportunity to dress up like they are going to their own wedding. Somizi asked their guests to stick to the theme of all-white and they did not disappoint in pulling out all the stops to make sure they look breathtaking.
Somizi revealed that some people do not get the opportunity to tie the knot so why not offer them an opportunity to dress up like they would at their own wedding.
2. No Cellphones.
While the wedding plans are in full swing Somizi and Mohale are meeting up with their wedding organisers at ROTH Media to discuss plans on how to execute their day perfectly without cellphones.
Yes, they let the cat out of the bag that no cellphones would be allowed inside their wedding venue. This is to avoid spoiling their wedding special.
3. Wedding Rocks.
The lovebirds meet up with their wedding band designer Kealeboga and Ursula Pule of Nungu Diamonds to give them an idea of what kind of custom-made wedding bands they want.
Somizi fell in love with a diamond-studded rose gold band, and they both decided to have the other's name engraved on their rings.
4. Wedding Outfits.
Somizi gets ready to fit his wedding suit - he meets up with Gert Coetzee the most preferred fashion designer of SA's biggest stars who was the designer behind the most talked-about looks from their traditional wedding.
Somizi tells Gert to make sure that Mohale and him do not see each other's outfits before the wedding because they want to surprise each other on their big day.
6 Champopo galore!!
Somizi is a big fan of champopo, last week he revealed that at his traditional wedding he did not even eat because he was boozing too much.
On this episode, Somizi is meeting up with the GH Mumm team to discuss how many cases of champagne they would like to sponsor. He reveals that each guest will get 5 bottles of Champagne. He jokes and says if there is no alcohol at an event he doesn't enjoy himself so he wants his guests to be sorted with alcohol.
7 Presidential Invite.
Last year Somizi and Mohale met President Cyril Ramaphosa at the National Orders ceremony and extended an invitation to him to attend their wedding. In the glossy episode, Somizi's friend advises him to send the president's PA an email to invite the president. He says having him would be great so that he can send a message to the whole continent about a gay couple's wedding.
8. Groomsmen Party
As Preparations for Somhale's white wedding are well underway the couple is hosting a lavish groomsmen party. The all-white themed party with a touch of gold is hosted at the Centurion luxurious boutique, River Meadow Manor.

Somizi reveals his best man Thabo who has been loyal to him for many years and Mohale reveals his best woman, his friend from Varsity.

Somizi's friends also surprise him with a bachelor party filled with strippers. Somizi jokes that the strippers are world-class and he would have been disappointed if they were not up to his standard because he left a good looking man at home.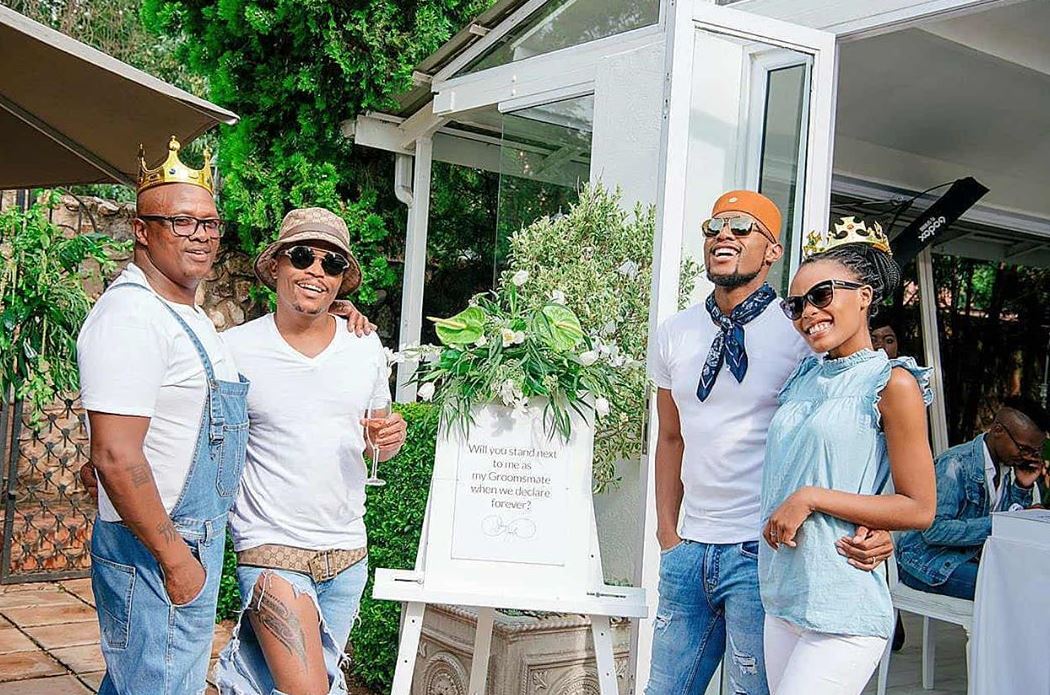 8 All the groomsmen are dressed by
Right now you can sign up for Showmax mobile and get full access to the full catalogue on one mobile device for R49PM. Vodacom customers can get Showmax mobile plus 2GB data for R99PM.
Read more