Multiple award-winning South African instrumental pop group Sterling EQ arrived back in South Africa on Tuesday after a four-day trip to Turkey, where they headlined at the prestigious European World Travel Awards Ceremony in Antalya on Saturday 31 August. 
The all-woman group, founded in 2007, has now performed over 800 live shows in 11 countries across 4 continents.  They have released 3 studio albums and a live DVD, winning a South African Music Award (SAMA), Ghoema Music Award and Huisgenoot Tempo Award on top of numerous nominations. 
Carina Bruwer, leader and founder of Sterling EQ, said: "This has definitely been one of our career highlights.  The response from the European audience was unbelievable; they had enormous appreciation for our music and seemed very impressed by the fact that were all trained in South Africa." 
Sterling EQ was dressed for the event by local fashion house Milq and Honey.  "We wanted to promote South Africa through our presence at the event and chose Milq and Honey for its uniquely South African, yet international feel, which we feel echoes Sterling EQ's style and sound", said Bruwer.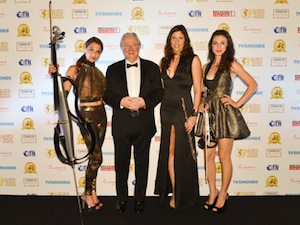 The European travel industry's elite, including senior executives of leading travel companies, government ministers and top tourism decision-makers, attended the gala event hailed as "The Oscars of the Travel Industry". 
Sterling EQ also took time out to shoot with British photographer Mark Hakansson on location in Side, Antalya (Turkey).