Twitter user, Khuthi Makananise, had everyone on the social network talking after her shocking story about the brutal attack of her "friend", Kamogelo "Kamo" Peterson. 
Celebrities and government officials joined thousands in tweeting their sadness over the story.
But sadness turned to shock (and anger) when Tweeps woke up on Monday to find that Khuthi had made the whole thing up. A group of Twitter users did some digging, and found out that things just weren't adding up! Read how Tweeps busted Khuthi. 
But even more shocking than Khuthi passing fiction off as a true story, was The Star Newspaper publishing Kamo's story as fact, before news broke that it was the figment of the teenager's imagination.  
A whole article on Kamo in The Star pic.twitter.com/BPJqJYe3W8

— Sister Bettina (@JuzaidaSwain) January 11, 2016
The Star newspaper takes the biggest L for publishing the Kamo story 😭

— Amo needs a blesser (@Amzodo) January 11, 2016
Yes, the newspaper was left red faced after failing to do the basics of journalism 101. To their credit, The Star tracked Khuthi down and the writer wannabe admitted – surprise, she lied!
And it seems Khuthi's over active imagination once again got the better of her, because despite claiming that she did have a friend named Kamo who died (albeit in different circumstances), the newspaper could not find a record of her ever existing – and Khuthi stopped taking their calls. 
Geez, Khuthi, stop with the lies and accept your award for best performance on a social media network for 2016 - and it's only January! 
On to two people who are no strangers to social media fodder!
Bonang Matheba and AKA were two of SA's biggest social media stars of 2015, and it looks like the pair are set to spice up Twitter in 2016 as well!
Queen B and the Congratulate rapper set tongues wagging after pictures on social media put them in the same place at the same time. Despite their continuous denials, it appears the two are in fact dating. Rewind to 2015 when Bonang threatened to sue AKA's baby mama DJ Zinhle, after she revealed in a break-up post that the two had had an affair. Queen B even demanded an apology. Imagine!
READ: Zinhle wont be apologizing to Bonang 
A recent trip to Mozambique seems to have finally confirmed their romance, after AKA could not resist posting this picture...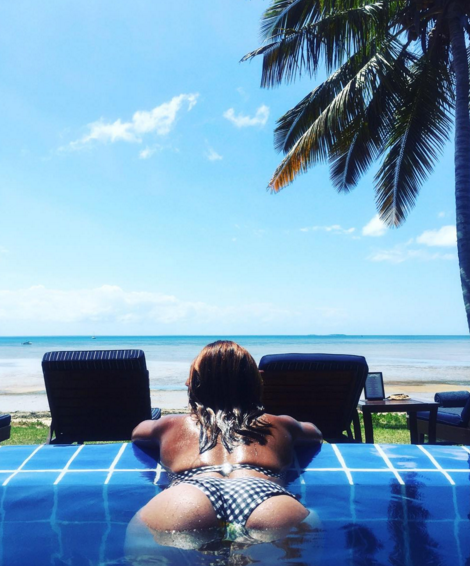 So who is the girl in the picture? Don't worry, Twitter's FBI was on the case!
Exhibit A: The curious case of the weave
Bonang and DJ Zinhle both sported similar weave colours recently, and some fans suggested the perfect derriere belonged to Zinhle because AKA had recently sent her roses. 
But despite the person in the picture appearing darker than Bonang, some fans were convinced it was her, saying that AKA just forgot to add a filter to make her lighter.
But in the end, it appeared to be Bonang's weave.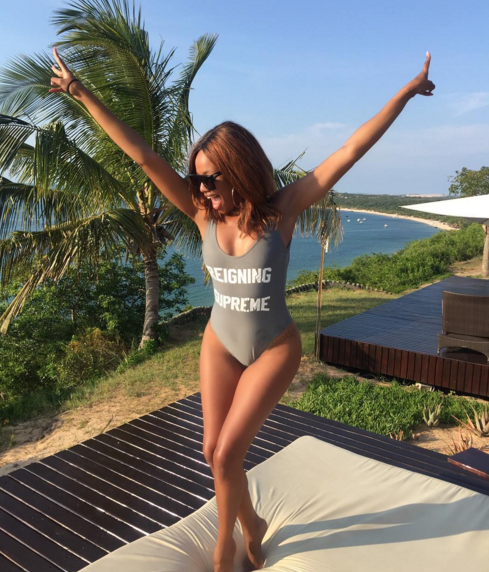 Exhibit B: The swimsuit
Exhibit B is what really did it for the Twitter FBI. A Tweep found a picture of Bonang wearing the bikini in the picture AKA shared. See, the pattern matches!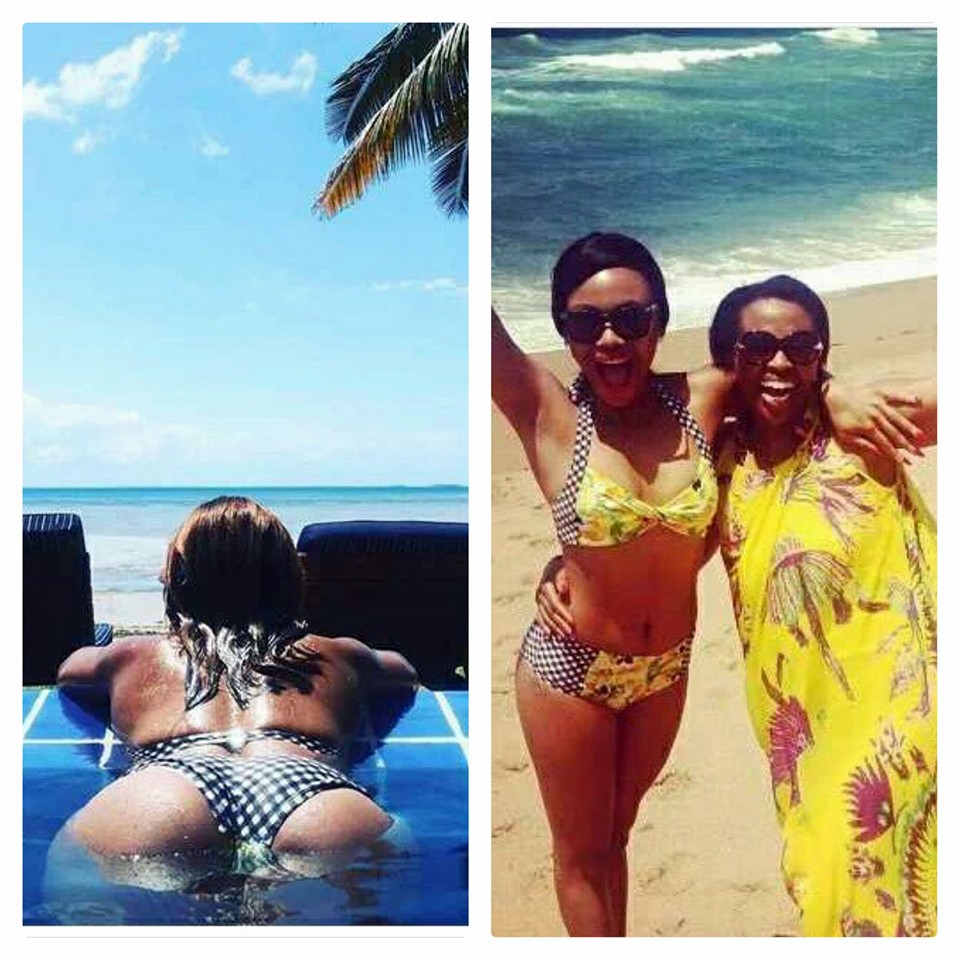 U guys don't sleep. U found out that its Bonang on Aka's pic by identifying the swim suit from an old pic!!?? Niya shesha shem! 😂👌

— Mpumi (@Mpumza90) January 13, 2016
Exhibit C: Matching clouds
Another Twitter FBI member shared a picture of the matching clouds in their pictures. We kid you not!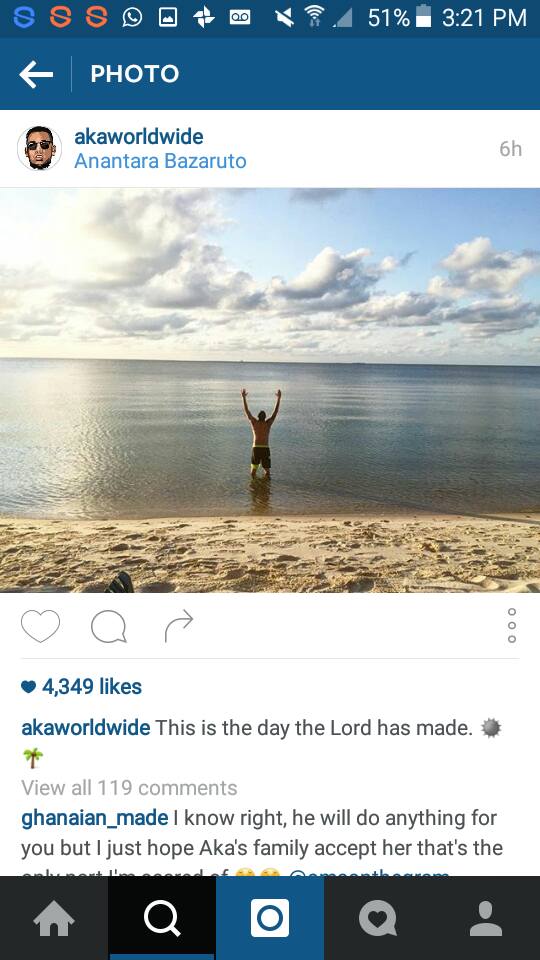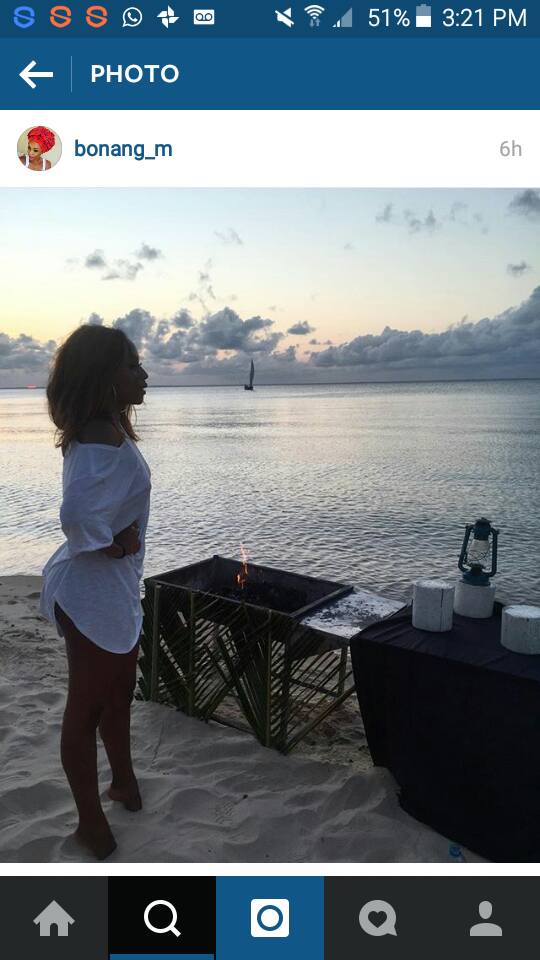 ​
Exhibit D: Afternoon Express moemish
And then Afternoon Express, the TV show Bonang works on, seems to have all but confirmed that Queen B was in Moz with AKA. 
@iamneobontle @TheRealDaytime @bonang_m Queen B is up in Mozambique, but she'll be back real soon! #AfternoonExpress

— Afternoon Express (@AfternoonChat) January 13, 2016
Exhibit E: Zinhle is chilling at home
And if you still have any doubt, Zinhle posted a picture shortly after AKA's bae pic to let everyone know that she was in the office and not relaxing on the beach with her former lover.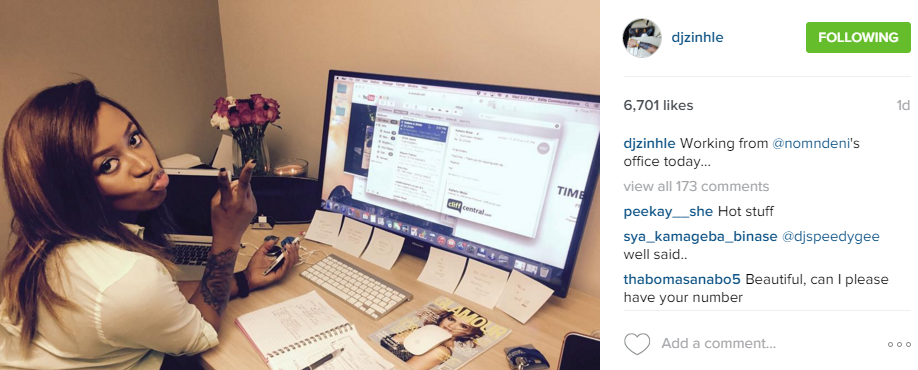 CASE CLOSED!
But one Twitter user summed it all up in one poll!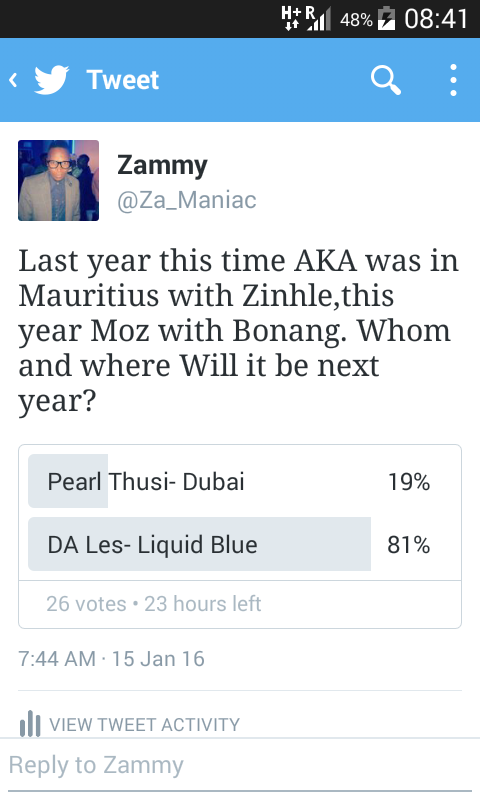 *sips tea*
*Our weekly column, Time for Tea, reviews celebrity news-making headlines. So grab yourself a cuppa, and join the conversation!