Start the ululating, roll out the red carpet, let the doves out of their cage, South Africa has some major talent. Young and (obviously) gifted fashion designer, Thebe Magugu has been crowned the winner of the International Fashion Showcase (IFS) 2019 at London Fashion Week.
The International Fashion Showcase, is an exhibition which is the collaborative effort including the British Council, British Fashion Council, London College of Fashion, UAL and Somerset House.
Thebe Magugu
(25) was dubbed a 'leader of his generation' by the judging panel after being awarded the top prize.
This year's project offered 16 creatives from across the globe the chance to represent their respective countries via a series of innovative installations showcasing their
menswear and womenswear
collections and exploring the issues of politics, sustainability, identity and heritage.
Now, if you think that Magugu was just a young boy from Kimberley who shot to fame overnight-you're clearly asleep at the wheel. Thebe was a star in the making when he debuted his genuis at the 2017 South African Mens Fashion week, as part of the Woolworths' Style By SA collection. His feminine silhouettes with a play of textures and detailing called to attention. His women's ready-to-wear garments are functional while experimenting with tradition, art and design.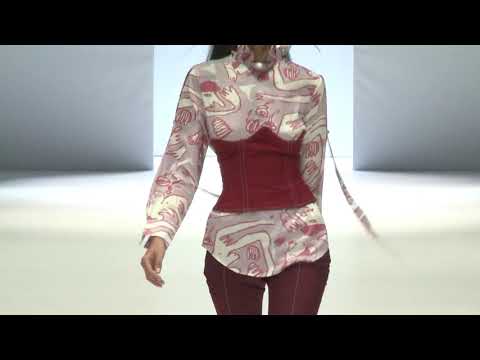 The Kimberley native, is inspired by womenswear but particularly by the important role woman have played in his life. He studied Fashion & Apparel Design at LISOF Fashion School in Johannesburg and has always explored the imbalance between masculinity & femininity, traditional verses experimental. The design of his garments bridges that gap with a sleek, modern take that intertwined with motifs from our country's history. Providing smart, multifaceted clothes. Finally a man who knows what women want...to wear.


When Woolworths launched their initiative to collaborate with South African design talent-Thebe was on top of the list. The Woolworths style capsule, brought his designs online and at their major retail stores. This gave locals a chance to grab designer items, straight off the runway while supporting local. Thebe also took it one step further and shot his shot with Spree.com (before the merge with Superbalist) and gave those on a budget, the chance to look and feel expensive.
The young designer, Magugu doesn't thrive only to make beautiful and functional clothing to enhance the wearer's every day. He prides himself on ensuring that each collection has an edge that represents and compliments South Africa's current landscape. Magugu believes it is his duty to provide people with garments that allow for expression.
His hard work and determination has already brought him to the attention of Sarah Mower, Vogue.com's chief critic, as well as Vogue Italia- naming him as one of 10 people to watch.
Well here at ZAlebs, we're so proud to show off another young and brilliant mind, straight out of Mzansi-to the world.
What to read next:
ZAlebs spotted at SA Fashion Week.
Main Image Credit: SA Fashion Week