Since the inception of the channel, MacG has been known through his buzz cut and dreads.
A signature that is seemingly coming to an end with the much anticipated return of
Podcast and Chill
with MacG, Ghost Lady and
Sol Phenduka
.
MacG cuts his dreads off
Podcast and Chill
marked the end of its 2022 run with the 419th episode
following drama over the firing of original crew members
. However, technically, the channel concluded its run with the airing of the special wrap up episode which was hosted by
friends of the show,
Robot Boii and Mpho Popps.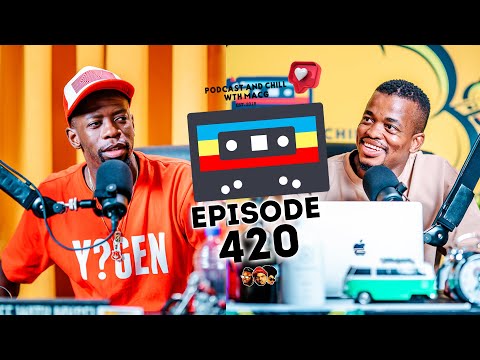 As the podcast is set to return in the new week with its first episode of 2023, MacG took to social media to show how he is getting ready, This is as he revealed that he has cut his dreadlocks off ahead of the filming of the first episode.
However, MacG did not share what he currently looks like as he is seemingly waiting for the first Monday episode to showcase his new hairstyle. But this did not stop some of his followers from reacting and photoshopping what the podcaster will look like without his signature hairstyle.
Moreover, there will be a lot to discuss on the upcoming episode. This is as MacG and his channel still managed to trend during the production break. This was due to the launch of their new series on the channel Amapiano Wrapped.
MacG's Amapiano Unwrapped dragged over Kabza's impact comment
The second Amapiano Wrapped countdown started with MacG contextualising that the countdown was the Top 10 of the Most Impactful Amapiano Acts all-round. Therefore, there were a number of producer-DJs and vocalists that received unanimous votes that would make up the Top 10.

Major League DJz was one of the last one added as they were not included through the initial individual lists submitted. But when the panel gathered, they realised that they had not included the twins to their lists. Initially, they were discussed as number 10.

However, that soon changed when they took into consideration just how much of an impact this year alone that the DJing twins have had internationally. Whether it was through their highly successful Amapiano Balcony Mix, which has now become an internationally recognised live mix. Or the fact that the twins have worked and rubbed shoulders with the likes of WizKid, Tiwa Savage and many more.

The twins were eventually pitted against Kabza de Small for the number one spot. While for many, Kabza de Small being the most impactful Amapiano artist overall is not questioned. This is as for two years and counting now Kabza de Small has been the most streamed South African artist. Moreover, if it were not for SETE, he would also mark the second year as the artist with the most streamed songs.

But manager to Abidoza and promoted, Dimpho Rapudi, seemed to land herself in hot water when she suggested that Major League DJz are more impactful than Kabza de Small due to the fact that they can articulate themselves and the culture of Amapiano better than Kabza.

what does she mean? 😭 pic.twitter.com/dKvvPoxbrm

— #PianoGenius (@KK_KingKokii) December 29, 2022

Image credit: Instagram