After having fans on the edges of their seats for a few months, Jimmy Nevis has finally announced the release date of his second studio album, The Masses. The singer took to Twitter with the following message: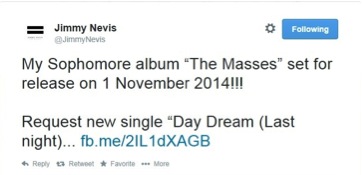 Nevis has only been in the South African spotlight for three years, but has already made his mark as one of the best young vocalists this side of the world. His debut album, Subliminal, saw Nevis take local charts by storms with hits like Heartboxing, Elephant Shoes and Balloon.
The singer, who is represented locally by Rude World and David Gresham Records, has also signed an international record deal with Ultra Records.
Jimmy has already released two singles from his sophomore album, Misscato (which I love, by the way) and, recently released, Day Dream (Last Night). The album is set to hit shelves on the 1st of November this year. From the looks of things, this could be another chart-topping effort for this talented singer.