It is common to hear about how societies continue to overlook, dismiss, and downplay the condition. Most people tend to conform to society's wishes, but we have our celebrities to look up to and be inspired by.
Mseleku'
s daughter Enhle Mseleku has taken to her Instagram account to open up about her depression. Enhle said she ended it when she made the decision to do so.
She shared what she did to overcome depression. "Depression sucks because only you can fix it. Even if
Zuma
buys you a jet- it won't change a thing, only you can fix this. My issue with depression only got resolved when I decided to end it. "she wrote
" Yes it's not easy but one of the things was to do a list of all the things about me that I thought were cool and all the things I thought were not. If the not list outweighs the other then you sit there and think of more things to add to the cool list."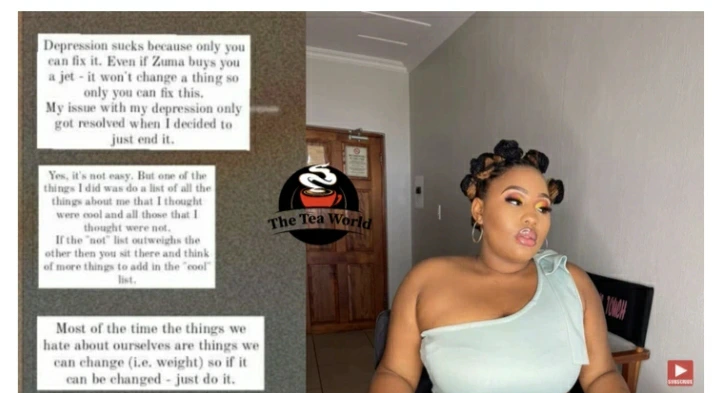 Lasizwe
is another star who is not afraid to speak out about his mental health struggles. He said in 2020 that fame had changed him for the worse. It got worse when he lost his father whilst he and his siblings were on
a trip to Cape Town.

He wanted to delete his social media pages and start afresh.
"I've lost my true authentic self! I have become fake and plastic! The fame monster has gotten a hold of me! What you can do for me is to pray for me! Honestly please pray for me! It would really help,"
he wrote.
"With that being said with immediate effect I am deleting all my social media applications and beginning a journey of self-discovery. I am still fighting a winning battle! Depression is real and deadly! I love you and appreciate you so much! I feel free."
He shared a video of him
checking himself into a Mental Health Wellness Facility.
"
One thing about me, I am not shy to express how I feel. I have checked myself into a Mental Health Wellness Facility. I haven't been okay for the past months. I have been so depressed. I have decided to fight this by taking a break and dealing with this 1 on 1,
" he shared.
He later updated his fans about his health. He said he is in good spirits and thanked everyone for their concerns.
"I am good, and I back working and the show has to go on under my psychiatrist supervision, they believe that I am fit to go into the big world and to do what I love the most,"
he said.
Image Cred: Twitter