Seriously, Our Perfect Wedding needs to be presented with an award for Best Sunday Entertainment on TV for all its hilarity and more. Since its inception, Sunday television has never been the same and we thank all the couples that have shared their special moment with the rest of South Africa, honestly we appreciate the comedy you bring into our lives even if it's not intended to be comical.
The previous episode of the show was overshadowed by that dreadful kiss and many a more awkward moments, by the way, has anyone recovered from the Maluleke kiss? We sure haven't.
Anyway, Sunday's Our Perfect Wedding was surely a perfect matrimony to witness. One could tell that Thomas and Lungile Masilela thoroughly planned for this special day, right until the infamous kissing moment. It's like they've been keeping their close eye on all the social media trolls who always have their 2 cents of opinion and they were not going to have any of that trolling ruin their special moment. To be honest this truly was a perfect wedding apart from two minor things that we shall get to shortly.
Royal Blue and Lemon
We'll be honest, at first we were not sure of the royal blue suits by the groom and his groomsmen but as the show went on, the gentlemen appeared to be more dashingly handsome than we'd expected. Thank goodness the suits fitted them well too, there's nothing off-putting than a bunch of men wearing oversized suits, the touch of lemon on their bowties was a stroke of style genius.  We tend to give the adults too much credit on their outfits, it's only right we also let the little once shine too, how adorable are they in this picture?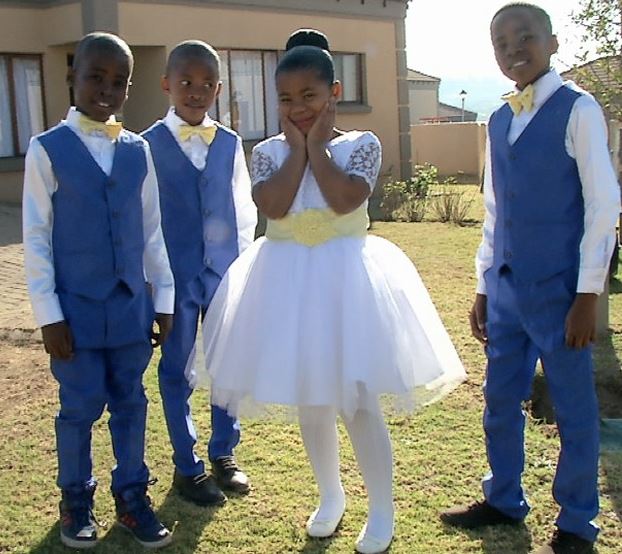 Décor on fleek
A two colour décor that was a match in heaven, everything about this décor was perfect. It was clean and not too busy on the eye.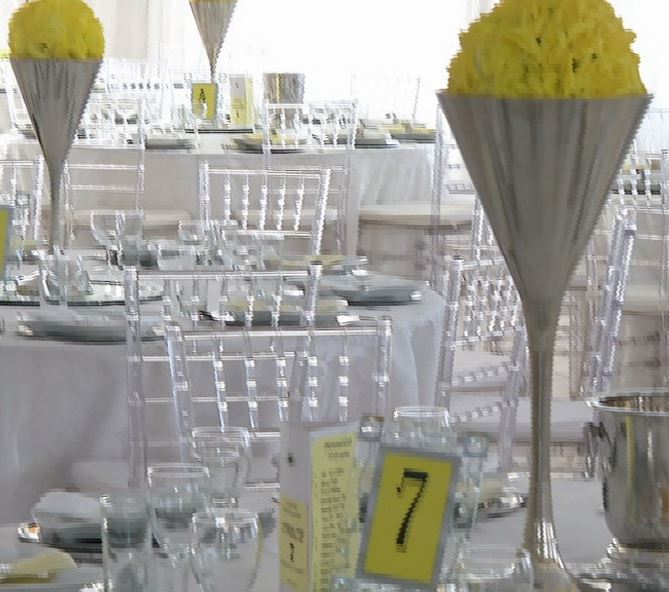 Wedding gown perfection
We absolutely have no disputes when it comes to Lungile's wedding gown she looked absolutely beautiful, everything about her look just seemed right, we're even sure bridal gown designer, Vera Wang would attest to this.
However, it wouldn't be a true Our Perfect Wedding episode without one or two things going absolutely wrong or even making us laugh till we're sore to our stomachs.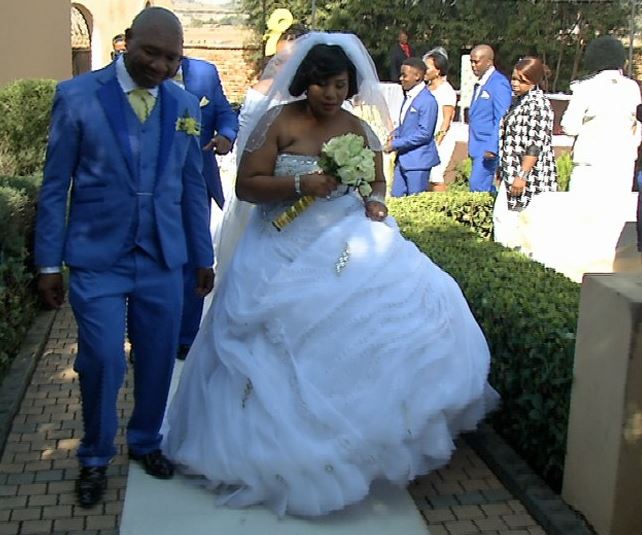 The Leopard skhothane
Whose uncle, father, brother and boyfriend is this? And who let him leave the house wearing this 2 piece leopard outfit? Shame some people aren't loved at home but thanks to the random leopard skhothane for providing us with entertainment, your frog impersonation was our favourite moment. We hope to see you in next year's season of Strictly Come Dancing.
The cake was beautiful, but we became a bit confused when it started to resemble The Leaning Tower of Pita, we hope the Masilela couple received a discount from the bakery shop that baked this cake, everything was perfect until the cake appeared on our screens. And of course, the Twitter trolls jumped at the opportunity of creating these hilarious comparisons.
Leaning tower of pisa #OurPerfectWedding #OPW pic.twitter.com/m3GLWt4Yqv

— Thomas Madia (@madiathomas) June 14, 2015
However as mentioned this was a perfect wedding and suitable score of 8/10 is deserved. Blame the leopard skhothane and the bakery shop for the two minused points.