The thing we love most about this show is that it brings hope to side chicks, those who are stuck in the friend zone and also those couples who are still playing house.
On this week's episode of Our Perfect Wedding, Kgamaki was friend-zoned by Sibusisiwe, who was engaged to be married to someone else. Before she knew it, she had fallen for Kgamaki, which subsequently led to her breaking up with her fiance. So, you see people, nothing is impossible in this thing called love.
This couple's wish list consisted of the décor, outfits and cake. Since the cake was also one of their top priorities, it's safe to assume that they would have tried to find the best confectionary available. However, but this DIY(Do it yourself) bride decided that she will bake her own cake, and as expected, it proved to be a big and uninformed decision.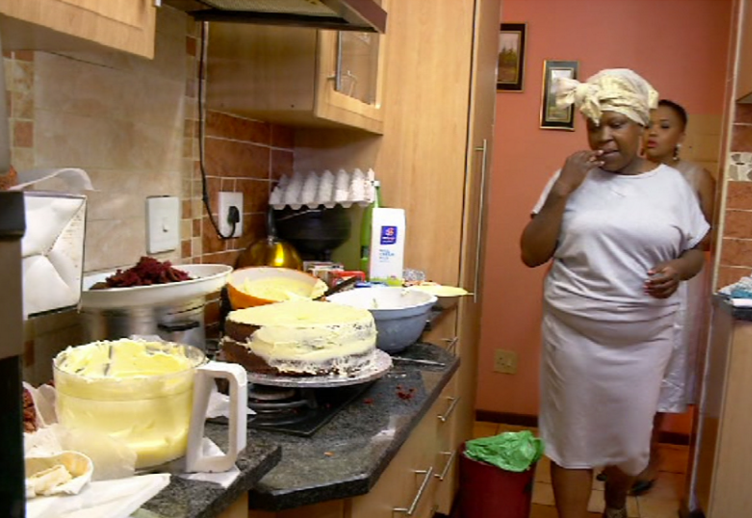 But before we dwell on the cake, which almost didn't happen, we would like to start with the dress. Busi's dress was nice and she looked beautiful in it but honestly speaking, the bling was a bit too much. The dress had enough bling to be spotted from Mars. At least the bridesmaids' dresses were spared from the bling.
The ladies wore purple twirling dresses.They were simple, uncomplicated and nice. The groom also didn't look half bad, we loved his navy blue suit and he looked great in it. The groom's entourage didn't look too shabby either and we loved the fact that they didn't wear shinny suits. Shinny suits are always a challenge at these weddings.
Unfortunately, we only managed to see the bridesmaids and groom's traditional outfits because the tailor didn't make Busi and Kgamaki's outfits. We must say, the highlight of this wedding was when Busi went savage on the tailor for not doing his job. For a moment the show went on a Speak Out mode and we were convinced that Busi was going to land a few punches on the tailor's face.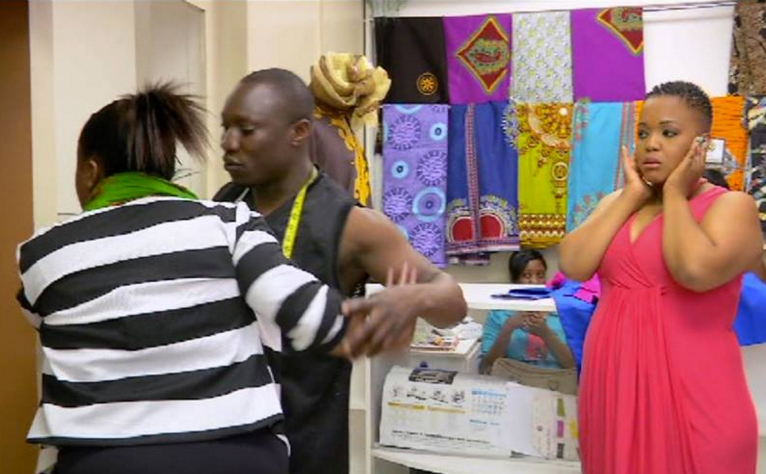 We understand her anger and frustrations, we are not even going to judge her for bursting out, because chances are some of us would have Jet Lee kicked the guy right there and then. Had Busi insisted on delegating, she wouldn't be baking her cake in the morning on her wedding day. 
We understand that she wanted things to be perfect, but we think she sabotaged herself because at the end of the day she ended up with something she didn't want. The deco wasn't half bad, it was just simple and nice. At least Busi managed to get the suitcases she wanted.
She sacrificed being seated on a table so that her suitcases could be seen. We totally don't have a problem with that, as long as she was happy with the setup. Even though the bride didn't have her traditional outfit, she still managed to wear another white second dress. If we didn't know any better, we would say the second dress was better than the initial gown. It was less busy and less distracting.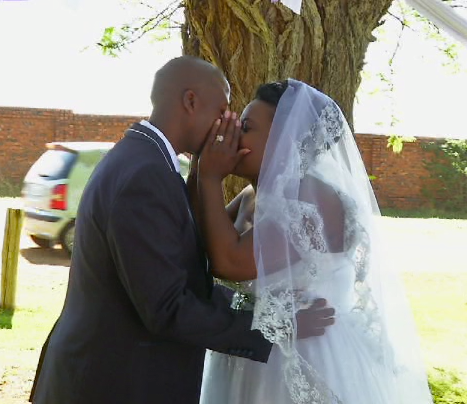 This is another wedding where the nae-nae failed the people. We understand people want to stay current and keep up with the trends, but this dance move shouldn't be for weddings, especially if you going to do it as if you are ducking bullets like on the Matrix.
Otherwise, the wedding was beautiful and we score it an eight out of ten.
Image credit: Facebook