Enhle Mbali
has debunked
Black Coffee dating rumours
saying she believes that there is a certain somebody getting paid to lie about her. This comes after MacG alleged that she and
Black Coffee
have rekindled their romance and set aside their differences.
Read more:
Enhle Explains Why She Still Wears Her Ring
Of course the rumour was too good to be true, looking at the way they fought in public over sensitive issues involving their kids.
Enhle Mbali alleged a few months back that Black Coffee, her estranged husband used to abuse her and sometimes in front of their boys.
The last fight they go into was when she alleged that he had their
electricity supply cut
whilst their boys were with her. Enhle went on IG live to joke about the issue, implying that the Grammy award winning DJ had something to do with it.
This prompted Black Coffee to go on a rant and asked her to take care of her own bills and leave their boys out of this.
Read more:
"Take Care Of Your Bills" Black Coffee Tells Enhle
A few months later, a publication alleged that
Enhle was broke
because they passed her house and the lights were out.
Hitting back at these claims she said she and her boys were on vacation in Durban and could not keep the lights on.
A source told
City Press
"Black Coffee's family heard about the situation through others. He isn't obliged to pay the electricity bill because, in terms of their parenting plan, each of them spends equal time with the children and therefore should take care of them equally," it said.
"It looks as if Mbali can't maintain the kind of lifestyle she used to have with Black Coffee, but she's refusing to let go. The family has advised her to downsize many times, but she just won't listen. That house is very big, she currently doesn't have a stable job and the money she receives every month is just a drop in the ocean when it comes to covering expenses."
After all of this, could it be possible that Enhle and Coffee rekindled their romance? Nothing is ever too impossible in ZAlebville but Enhle wants to make it known that she is still very single.
Mac G alleged that they got back together, when he and The Podcast and Chill team discussed Vusi Thembekwayo GBV allegations.
MacG wanted to close the topic off by saying he does not like discussing couples' issues because they end up getting back together.
"I hate talking about couples...I mean look what happened to Enhle and Black Coffee. She came out talking about GBV, he is not paying electricity, now they back together," he said.
But Enhle denied these claims alleging that someone is getting paid to lie about her.
"I'm still very single…Not back anywhere. Still my own person. Someone's getting paid to lie," she laughed.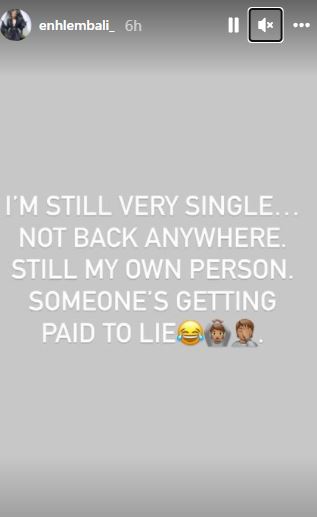 The team even pointed out how Enhle backed out from revealing everything about her
alleged abuse with Black Coffee.

In a rant where she was crying, Enhle said, "I decided to make this video because I have been silent. I have been harassed, I have been intimidated for the longest of times. And I'm here emotional today because I wasn't granted a protection order."
"Now, I'm not going to say names because I don't know the implications. But I'm going to tell you guys everything. I have been protecting this man for far too long. And all the other women that have come to me for assistance, I will also come at them."
"This man lied in the court of law. Saying he went under my arm, as tall as he is when he knows very well that he hit me. He struck my hand twice and pushed me into our marital property. I don't feel safe as he is also psychologically messing with my children. Which is why I had to stand up and fight for myself. He called my children, telling them to stop this whole case. And my child was crying. My child told me that he doesn't feel like a child anymore. Because of the divorce, because he's got new siblings and so many other things."
"Today is the last day I am silenced by any cause but my own and that is GBV. Today is the last day, the last day I will speak. So all the media houses – be aware that I'll be doing a press conference and in that press conference I will bring evidence and I will bring text message, I will bring absolutely everything that was lied about."
But her fans are still waiting. The only time she ever spoke about this is through her
documentary.