Khanya Mkangisa recently turned 28 and it looks like she had a great birthday.
This is all thanks to her boyfriend, Matli Mohapeloa, who surprised her with something special on the day. 
She took to Instagram to share a picture of her birthday cake. The snap was captioned: "My birthaday cake. I love you Matlie and thank you for the beautiful surprise this morning, you are appreciated."
READ: Khanya Mkangisa and Matli Mohapeloa still on
She then shared a snap of herself standing in front of her birthday cake, holding a baloon, and she had the sweetest smile on her face.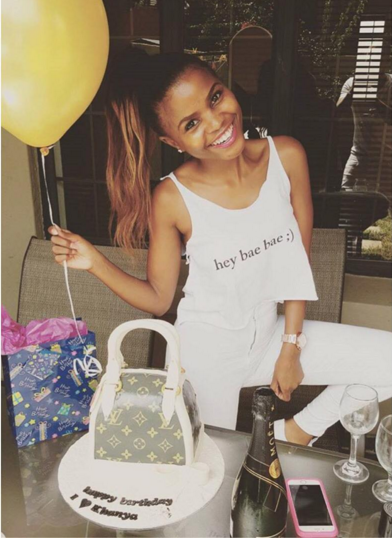 The pic was captioned: "Birthday girl. hey bae bae, thank you for making today so special. Love you, always!..."
Matli also shared the same image on his Instagram page, with the caption: "Happy birthday to my ball of fire. My friend and my spokesperson. Mess with me and you'll have to go through her." 
Image credit: Instagram