Khanyi Mbau and Kudzai Mushonga are still going stronger than ever despite the few challenges they faced in their relationship. The couple who tries to keep things private, don't mind sharing a little bit about their relationship and we love to see it!

Read more: Khanyi Thanks Kudzai For Allowing Her To Chase Her Dreams

The Wife actress, Khanyi Mbau recently shared how her man is so fond of her that he would go to extreme lengths to prove his love. Khanyi has always vocalised how she wants to be loved and what type of man she wants. It seems Kudzai ticks all the boxes because he is filthy rich. Which is one of the traits she wants in a lover.

She recently shared with her followers that Kudzai would do anything to not disappoint her, even if it gets him in trouble.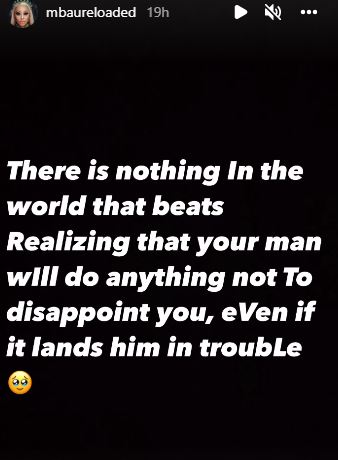 "There is nothing in the world that beats realising that your man will do anything not to disappoint you, even if it lands him in trouble," gushed Khanyi.

If you're an avid Khanyi fan, you will know that sis likes them older and rich. But when she met Kudzai, she is now the cougar but at least he is still rich. On the reality show Young, Rich African, she once opened up about this and spoke about how she felt with being the older one in the relationship.

"I'm Khanyi Mbau, gold digger is what my trolls call me. Being a gold digger… I earned the name when I had a baby with my baby daddy.. And people said 'it can't be love. She's definitely there for his money, she is a gold digger,'" she said.

"Every morning we wake up to the piano, because we feel like the alarm on your phone is quite violent. Who wants to wake up to violence? There is enough traffic there is enough traffic that you're going to face, just wake up with a note."


In her interview with Sizwe Dhlomo on his KayaFM Afternoon Drive show, she explained why she only dates rich men.

"The thing is with my relationships I treat them like how I buy a car or a house ... you know what you want in the house. I know what my requirements are and I'm not going to back down.

"So many people confuse relationships and say, 'Ah, I'm looking for love' and two months down the relationship they're looking for something else and that's why they'll never win because you haven't made it clear what you want," she told the radio presenter.

Knowing how sensitive Kudzai is, many were worried about him following The Wife sex scene involving his woman. People pulled out memes from when he was crying after she left him at the their hotel room in Dubai. But Khanyi made it known that Kudzai supports her in her hustle and was not bothered by the sex scene.

"Your level of support baby, the way you let me chase my dreams and want to see become the best in all I do is incredible and honestly the wind beneath my wind. My silent cheer leader and fighter, my family, my guide. How you do it? Truly beats me. My love, my hubby...my heart...thank you for remaining constant."


Image credit: ANMG