As you know for the duration of the month of August, ZAlebs has been bringing you exclusive Women's Month content as we speak to some of the most influential ladies in the country. This week I had the pleasure of speaking to the newest additions to the MTV Crew, Roxy Burger and Sade Giliberti, I was pleased to have the opportunity to congratulate them personally, and find out about how they are taking to their newest adventure
First of all, it's plain to see that MTV couldn't have chosen two better ambassadors for their brand. We began on a lighthearted note, as I confessed that I held a childhood crush for Sade. The girls giggled while I blushed for a moment. "It's always nice when someone tells you that they think you're pretty, so thank you!" Phew! You're welcome Sade!
Once the ice had been broken, I congratulated the pair on their appointment to MTV. Roxy could not hide her excitement as she told me, "It's very exciting. We've had an unbelievable reception! It's still so surreal though, I've seen the promos, I've heard my voice on the channel, I really can't believe that this is us! It's such a massive brand and Sade and I grew up wanting to be VJs. It's fantastic to have achieved that. 
I ask how the opportunity came about and Sade immediately responds, "Right place right time!"
Having worked together before, the duo was always going to be strong candidates for any gig, and the time I spent with them showed me exactly why. They have very strong individual personalities, that's quite obvious. However, it's the chemistry between them that shows me why they work so well together.
The unspoken choreography in their speech is unforced and comes naturally to them. When Sade speaks, Roxy comes in at the right moment, and vice versa- not once did they speak over one another. These are traits that many would take for granted, or perhaps not notice; but I was in awe of just how simply they were able to apply that natural chemistry, even in regular conversation.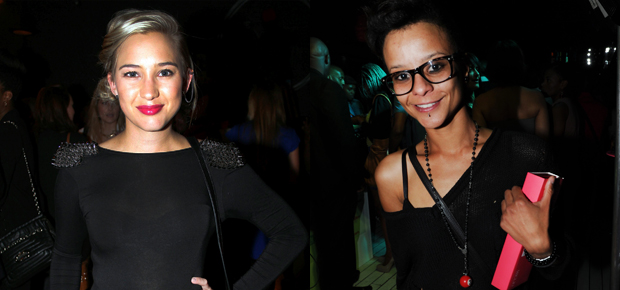 My thoughts are perfectly echoed when Roxy continues about how they came to closing the deal for the MTV position "We did a screen-test when they called us in for this position, and they sent it overseas and the people in Europe loved us"
You expect a VJ to be clued up on their music, and Sade and Roxy most certainly fit the bill. While they both admit to having different tastes, their respective knowledge of the music industry is unmistakable. Sade says, "We're very different in our music taste. I've got more of the indie rock, alternative, electro kind of vibe going with my music."
As if on cue, Roxy chimes in by adding, "I'm the opposite, I like a lot of Pop music, I'm big on Pop Culture. I also love hip hop as well"
What I appreciated beyond their respective music preferences- most of which I shared- was their attitude towards the music industry in general. Roxy rounds it up by declaring "There's a time and a place for everything. For example, I might not love something normally, but it will come on in a club and I'll enjoy it. "
At the end of the day, it's this open-minded attitude towards the music industry that proves to me that these girls have exactly what it takes to be successful on MTV. I wish them both the best of luck and hope to bump into the pair again soon.
As an aside, Roxy and Sade, when Christina Aguilera makes her way to SA, I hope to be introduced to my OTHER childhood crush! Thank you.
Don't forget to follow us on Twitter and Follow us on Facebook.