We're turning the red carpet pink at
Sun Met
2020 and thanks to our friends at
BLOOM Gin
&
Greenall's Gin
ZAlebs will be out there all day (and night) and the team is super excited.
The ZAlebs hub is buzzing, all the running around and prepping for Africa's richest racing day in the mother city has got us a little cray. But, we're not going alone...you're coming with us. Yes, you at home - you may have missed out on the
Sun Met Competition
but you're still our special guest.
Don't forget to join us on all our social media pages and watch us as we report the ins and outs of the ZAlebs team live from the Sun Met.
Follow us on ZAlebs Facebook
Follow us on ZAlebs Instagram
Follow us on ZAlebs Twitter
Not to mention, we've got a date. Our lucky winner from our Sun Met Competition will be joining us in the festivities of the day, but more on that a little later.
Tomorrow, we rise and shine and get prepped in our African Luxury themed attire - ready to take in the atmosphere of the Sun Met. We'll be showing you around on our socials and letting you have the full experience of the day, from the comfort of your home.
Check out our Must See Fashion Hits and Misses from last years Sun Met Here
By noon, you won't want to miss a thing. Our social streaming will be lit with celebrity faces and entertainment. ZAlebs has got you covered and we have an exclusive spot reserved for you on the red carpet.
We're no Vogue Italia or E! Fashion Police but we do love the glitz and glam of the red carpet- because, who doesn't? We're excited to see that Sun Ambassador,
Bonang Matheba
, the reigning
Miss South Africa, Sasha-Lee Olivier
, Photographer
Trevor Stuurman
, Fashion stylist & influencer ,
Sarah Langa
and designer
Rich Mnisi
- among many others - will all be gracing us with their on-theme outfits.
You can take a break between races and sharpen your mixology skills with some
BLOOM Gin
&
Greenall's Gin
recipes to try at home.
Mix It Up with Delicious Cocktails to Try At Home Here
While you sip on that, meet our Sun Met winner, Miss Xolelwa Mzili. This beautiful competition winner was so excited to hear that she was our lucky pick and we'll be following up with her at the Sun Met to see what she's wearing and who she got to #LiveFullBloom with.
Lastly, we'll be finishing the night off strong and heading to the after party. Yes, we're breaking it down on the dance floor at the official Sun Met, '
Africa is Not a Jungle'
party. We'll be in good company with
DJ Black Coffee
, Themba (formally known as
Euphonik
) and DJ Da Capo on the decks.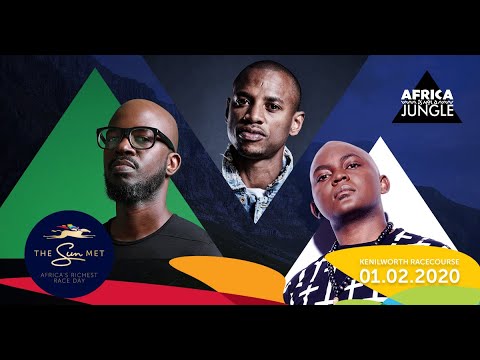 It's going to be such a good time and you won't to want to miss the chance to say, 'I was there', right? So, instead we'll say, 'See you there".
Read all things Sun Met here:
It's Sun Met 2020. Want To Go?

What To Expect At Sun Met 2020

Have A Perfectly Pink Sun Met At Home

Main Image credit: sunmet.co.za


Just a note about summer gin and tonics and what we learned from our friends at
BLOOM GIN
and
Greenall's
- do you know that some gins have up to 90 grams of sugar per liter while Greenall's Wild Berry and BLOOM Jasmine and Rose Gins are deliciously sugar free? We didn't know either but now we do - and you do too.