Mzansi's award-winning prison drama series,
Lockdown
is back with a new season and it has already shaken things up! The first 3 episodes of
Lockdown Season 5
premiered on
Showmax
on Thursday night and viewers are already on the edges of their collective seats.
Set in the dreary Thabazimbi Women's Correctional Facility, Lockdown's all-female cast is back as and it's like they never left! Seeing Mazet, Tyson, Slenda and more of our favourites back on the screen was a sight for sore eyes!

The multi-award-winning production is notorious for its cliffhangers, plot twists and emotional roller coasters and from the first scenes we already had goosebumps! It's safe to say we are in for a thrilling season.

Masabata's death was the centre of attention as a new commissioner in town investigated who killed the inmate. Unfortunately (or fortunately?) nobody was giving the commissioner any clear answers although he made it clear when he spoke to Deborah, the prison's cold-hearted governer, that heads would roll if he didn't find a culprit.
Meanwhile, the prison bullies who are ruling the roost and exacting revenge - including Tyson - continued to win the hearts of viewers and there was plenty to sink our teeth into with the opening episodes.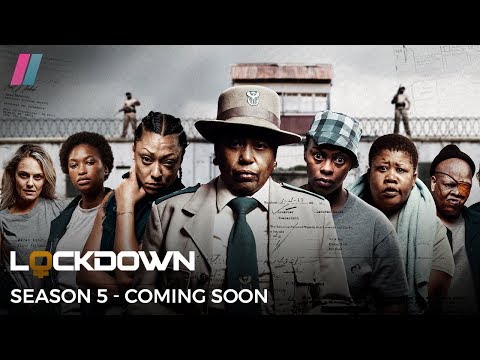 Here are the 7 Things we learned from the first three episodes of
Lockdown
which you can stream on
Showmax
right now!
Right now you can sign up for
Showmax mobile
and get full access to the full catalogue on one mobile device for R49PM. Vodacom customers can get
Showmax mobile
plus 2GB data for R99PM.

Sophie Lichaba is ready to wreak havoc


The first episode proved to be just as pulsating as we expected. We got pulled into Palesa's life, the character played by Sophie Ndaba-Lichaba. Palesa is a depressed and broken nurse at the Kgotsong Asylum where she is supposed to be escaping her life's greatest dilemmas but her mentally unstable patients hinder her healing process. In the first three episodes, we learn about her life story.

Palesa is head over heels in love with the head-nurse at the Kgotsong Asylum who also happens to be her ex-husband Siyanda. All she needs, and wants, is to be loved and for her former lover to express it but after a steamy sexual encounter, she is told to go home after his new wife calls.
In a heart-wrenching scene that had us all reaching for our tissues, she is seen breaking down after being forced to leave the house.


The husband in question abused her during their marriage and continues to do so even after they've separated because he knows how much she loves him.
Governer Deborah will have too much on her hands.


The first episode started on a hot note when the death of Masabata was all anybody could talk about. Governor Deborah Banda was under pressure from the Department of Correctional Services who demanded an explanation. The commissioner informed Deborah that a hearing was currently underway.


Despite the pressure, Deborah proved that she is still a force to be reckoned with this season. In the early-season-drama, she is seen trying to coerce Monde into testifying that her sister killed Masabata (even though she didn't) because she's mentally unstable and thus, could probably avoid a life sentence.

But there's more - this season Deborah is also pregnant after being brutally raped but her husband is not even aware of the horrible incident!
Maki Magwaza's future hangs in the balance.


Maki's character is iconic! She regularly has us rolling on the floor with laughter and provides rare moments of comic relief between the drama. But it's not all fun and games at Thabazimbi.


Caught in the heart of a narcotics battle, the hard-core prisoner is craving for her next fix and this makes her even more unpredictable than ever. She receives the shock of her life when Deborah reveals she's got video footage of her murdering Masabata. Oh dear!


Tyson is still running the prison yard.


Tyson is harder, tougher and grittier than ever before. This time around she is shocked to learn that her plan to kill Mazet's daughter is not as much of a secret as she thought. She has now become a bit closer with her arch rivalry Mazet to try and see her plot come to fruition.


Monde is deer in the headlights.


The sexy celebrity whose fame was cut off after being nabbed with drugs is trying to mend her relationship with Vicky after she burnt her. Vicky is now living with scars and there is no sign of forgiving her.


Meanwhile, Monde is also trying to get her sister out of the Kgotsong Asylum as Deborah forces her to confess that her sister killed Masabata in order to get a lighter sentence.
Mazet is two-faced and throwing her friend in the deep end.


Mazet is still the same ruthless character we've come to know. At the beginning of season 5 she is helping governer Deborah, who is trying to find Maki's stash of drugs. But when the Governor asks Mazet to be her "snitch", the inmate spits back in her face. Meanwhile, she loses Maki's trust forever after her old peer finds her spending more and more time with Tyson.


Sue is still the crazy and dangerous prisoner.


Sue is one of the few people who are in Tyson's secret plan to murder Mazet's daughter. The tension reaches a boil early on as she and Tyson are caught up in a physical altercation - sparked by her harsh words. Sue accused Tyson of being a sex-addict and let's just say it didn't go down too well!


Slender is not letting loose of her crazy antics.


Slender is still the most entertaining member of the prison yard. She is constantly cracking jokes and bizarrely, she still believes that her teddy bear is a real human being!


So much took place in the first three episodes of
Lockdown Season 5
and the drama will continue to premiere exclusively on
Showmax
with two episodes per week every Thursday!
Have you watched the first three episodes of
Lockdown?
If not, you need to catch up before next week!
HOW TO GET SHOWMAX:

Sign up for
Showmax
mobile and get full access to the full catalogue on one mobile device for R49PM. Vodacom customers can get
Showmax mobile
plus 2GB data for R99PM.
New customers get a 14-day free trial and then pay R99 per month for
Showmax's
standard plan.
DStv Premium subscribers get
Showmax
free - go to
showmax.com
to sign up. DStv Compact and Compact Plus subscribers pay R49pm.
Right now you can sign up for
Showmax mobile
and get full access to the full catalogue on one mobile device for R49PM. Vodacom customers can get
Showmax
mobile plus 2GB data for R99PM.