The 2015 MTN Radio Awards Gala Banquet takes place this Saturday at the Sandton Convention Centre and as I read through the list of nominees, I couldn't help but pick out my personal favourites and gush at the thought of any one of them receiving such a prestigious accolade.
Lance Rothschild, CEO of the MTN Radio Awards recently put the whole concept into motion quite charmingly: "The finalists are definitely the cream of the crop from this year's entries and I believe that this year's finalists have set a high standard for the industry as a whole."
Radio undoubtedly plays an important role in communication throughout the country and stands at the centre of uniting us in our interests and ideas. Being a radio personality isn't just about talking the talk; it's about finding a voice that echoes through the throngs of our stunningly diverse nation and leaving behind a sound that is well-sought after and highly anticipated. I decided to do a little piece on 7 celebrated South African radio personalities, both nominees and other presenters who are undoubtedly on my daily radar.
Werner Bothma - The Drive Way (Weekdays from 16h00 to 19h00) on TuksFM
No stranger to the awards stage, Werner is an 8 times nominee and has won in this coveted MTN Radio Awards twice. With his quirky remarks and all-round funny-man routine, Werner is entertaining to listen to. Boasting over 5000 tweets and a blog that's just as captivating, it's hard to ignore his voice on the radio when I channel-surf. He brings his own variety of spice to his show and as a fellow Tukkie myself, I'm proud to see him revel in this limelight.
John Robbie – The John Robbie Show (Weekdays from 06h00 to 09h00) on 702
Never one to run from heated debates and always at the centre of controversial headlines, John Robbie's voice is one that can never be ignored. It's distinct and dominant and provides for early-morning news that is both necessary and thought-provoking. Never leaving his listeners with just a story, Robbie always brings more to the table. He's never shy in expressing his opinions and strives to bring to the attention of all South Africans pressing issues that we often try to dismiss. He is informative and ballsy – a combination that salutes undivided attention.
Kriya Gangiah – The Lounge (Weekdays from 19h00 to 22h00) on JacarandaFM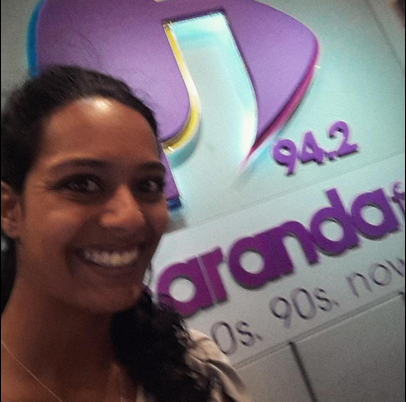 And one of ZAlebs very own celebrity presenters! Beautiful, smart and talented are just some of the words that come to mind when describing this phenomenal woman. Not only is she a radio and TV presenter, but a model and IT Auditor, proving that beauty and brains are a 21st century combination that's hard to stray from. Continuously described as a proud South African and an ambassador of her heritage, Kriya brings her own taste of grace and flawlessness to her shows. She's a constant buzz on social media and her captivating voice and timeless demeanour make for a perfect radio personality that's hard not to listen to on a daily basis.
Roger Goode – The Roger Goode Show (Weekdays from 16h00 to 19h00) on 5FM
Most likely 5FM's resident funny-man and all-round lovable weirdo, Roger is definitely one of my favourites to listen to in the afternoon. His display of ridiculous voices and super-hilarious-I-am-going-to-fall-of-my-chair jokes are mastered to perfection and topping that of with his taste in music makes for three hours of greatness. Already a household name in international waters, Roger's creativity and intellect have landed him a highly sought-after reputation as a renowned DJ. He brings a show that's fun and entertaining and appeals to any hip-and-happening crowd.
Anele Mdoda – Afternoon Drive With Anele (Weekdays from 15h00 to 19h00) on 94.7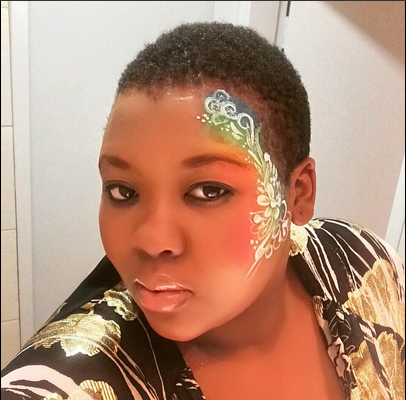 Always keen for a fun-filled and laughter-infused afternoon, Anele ranks as one of South Africa's foremost female DJ's. Lovelife accurately describes her as having "…razor-sharp wit and exuberant personality" and this has made her tremendously popular amongst her millions of listeners. Despite her saying that "Radio has to be least glamorous job in the world… There is no glitz and there is no glam," Anele still manages to effortlessly bring her own pizazz to her show. She oozes self-confidence, both on and off the radio, and she never fails to extend her sense of poise to her fans. She dominates with a flair that is prized and this has landed her countless nominations, including the MTN Radio Awards.
DJ Fresh (Thato Sikwane) – Fresh At Five (Weekdays from 05h00 to 08h00) on 5FM
One of South Africa's most influential club DJ's, Fresh has taken to the stage with an array of international acts. He's bold, he's loud and he's always on top of his game. Whether it's that hearty laugh that gets you going, his to-the-point sense of humour or his insanely jaw-dropping beats, DJ Fresh is undoubtedly a force to be reckoned with. He makes my mornings spunky and upbeat – what I'd describe as a perfect start to any day. I'm a religious listener and an avid fan-girl at most of his live performances and not once has he ever come close to disappointing. If you've never heard any of Fresh's shows before, I beg you to do so tomorrow morning. He is well-worth that 5am alarm.
Sureshnie Rider  - 5FM Top 40 (Saturdays from 10h00 to 14h00) on 5FM
Sush, as she's popularly known, is hands-down my favourite weekend presenter. I know that she only has one show on Saturdays and I know that it's a four hour long countdown, but the atmosphere of joie de vivre and passion that she brings with her make her my every weekend ritual. Not only is she such an inspirational woman, but she stands at the threshold of female media presenters. Described as "…today's quintessential modern woman," Sureshnie never fails to deliver a show that gives you a slight glimpse into her life, while at the same time always managing to get you to get those feet tapping. She's always in tune with her listeners and adds a touch of personal jazz that makes you feel right at home.