So last week ZAlebs announced its media partnership with VoW FM's radio show The Killer Joint as they continue to host one of the most sought after DJ competitions on any campus radio station at the moment.
Titled Battle of The DJs – the competition has already kicked off with its first round of aspiring, talented DJs whom we saw take on the DJ battle field this past weekend at the VoWFM studios in Braamfontein.
The Killer Joints' host – Freddy Maestro, introduced the two contestants DJ Kell and DJ Mac Breezy.
Click here to check out the two DJs battle it out at the VoW FM studios.
DJ Mac Breezy was the winner for the night, which has lead to him battle another contestant for this week, DJ Crazy Junior.
Make sure you keep a look out for the second round of the DJ Battle set to kick off on the 6th of November on VoWFM 88.1FM
To read our interview with DJ Battle judge Dino Bravo.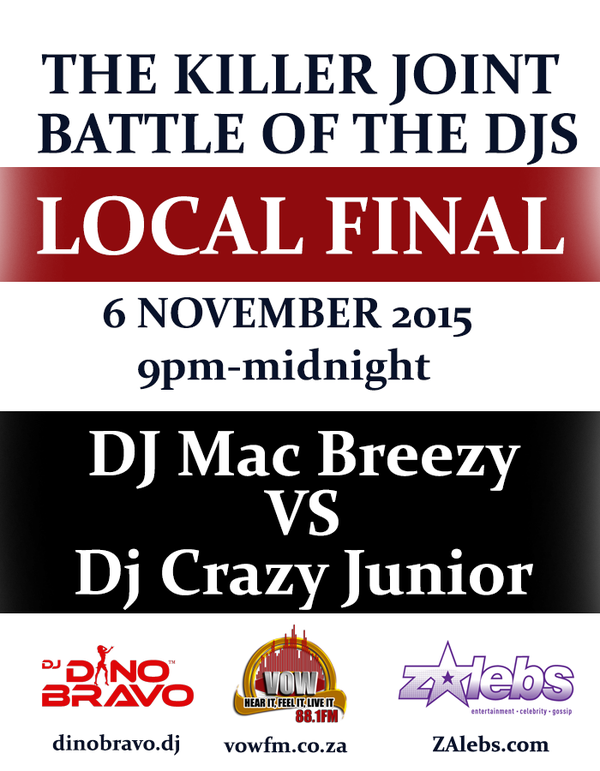 The winner of the competition stands a chance to win a full scholarship to Dino Bravo's DJ Academy and a slot as a resident DJ on The Killer Joint show and Sync Radio 1.
Make sure you also listen to ZAlebs every Saturday on The Killer Joint show as we give you the latest local celebrity news on VoWFM 88.1
Image Credit: Supplied