Okay, I know that gossip columnists and entertainment writers love to hype things up. We can even be accused of reading too far into certain things, such as pictures or those innocuous "spottings" in public places. However, Beyonce has the entire entertainment world eating out of the palm of her hand right now as we all run rings to figure out whether or not she's pregnant for a second time. 
After the troublesome 2014 that Beyonce, Jay Z and Blue Ivy had, the news of a second child might just be what the celebrity doctor ordered for the whole family. Obviously we can't  get too excited as there has  been no official confirmation of the potential news, but the hints being dropped by Queen Bey are starting to make us ponder. Just last week she was quoted as saying that her daughter, Blue Ivy "needs some company".
That was nothing. What really stirred the rumour mill was this Instagram picture posted over the weekend: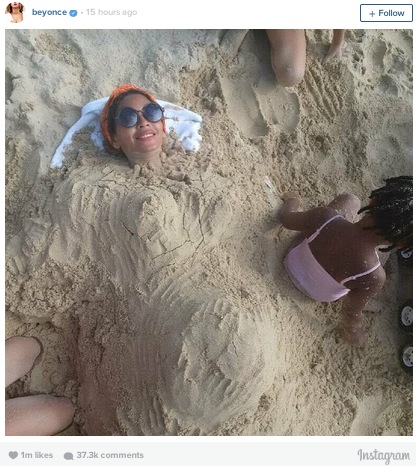 Sigh, We can speculate if she's preggers until the cows come home, but we still need that official confirmation. 
As a side note, remember all of the gossip publications who said with absolute certainty that Beyonce and Jay Z would divorce after the On the Run Tour? How did that end up working out?