Talented SA actors
Dillon Windvogel and Arno Greeff, have impressed quite a large number of people across the globe, with their impeccable acting prowess.
The two starred on Mzansi's highly acclaimed teen series
Blood and Water
,
which was released last month, and they have already become firm favorites. Since the series was released on
Nextflix,
the pair has essentially earned the title of Mzansi's favorite young stars to look for in 2020.
The series has become the talk of the town, and many have been hyping high praises on the 6 groundbreaking episodes, which got many on the edge of their collective seats.
Blood and Water has swiftly become an international hit streaming series. It was recently announced that it holds the number one spot in the Top 10 in the USA on
Netflix
, making it the first South African original to reach this big milestone.
The teen series tells a tale of
Puleng Khumalo
who is investigating the cold case of her older sister,
Fikile Bhele
who was abducted at birth.
Puleng
believes that a
Parkhurst student
Fikile
is her sister and she gets herself transferred to that school to investigate the case.
ZAlebs recently caught up with Arno and Dillon to unpack their characters in
Blood and Water.
Dillon who portrays the lead character of
Wade Daniels
, who is a pupil at Parkhurst and a son of Parkhurst headmistress, has a crush on
Puleng
and he also assists her with her investigation.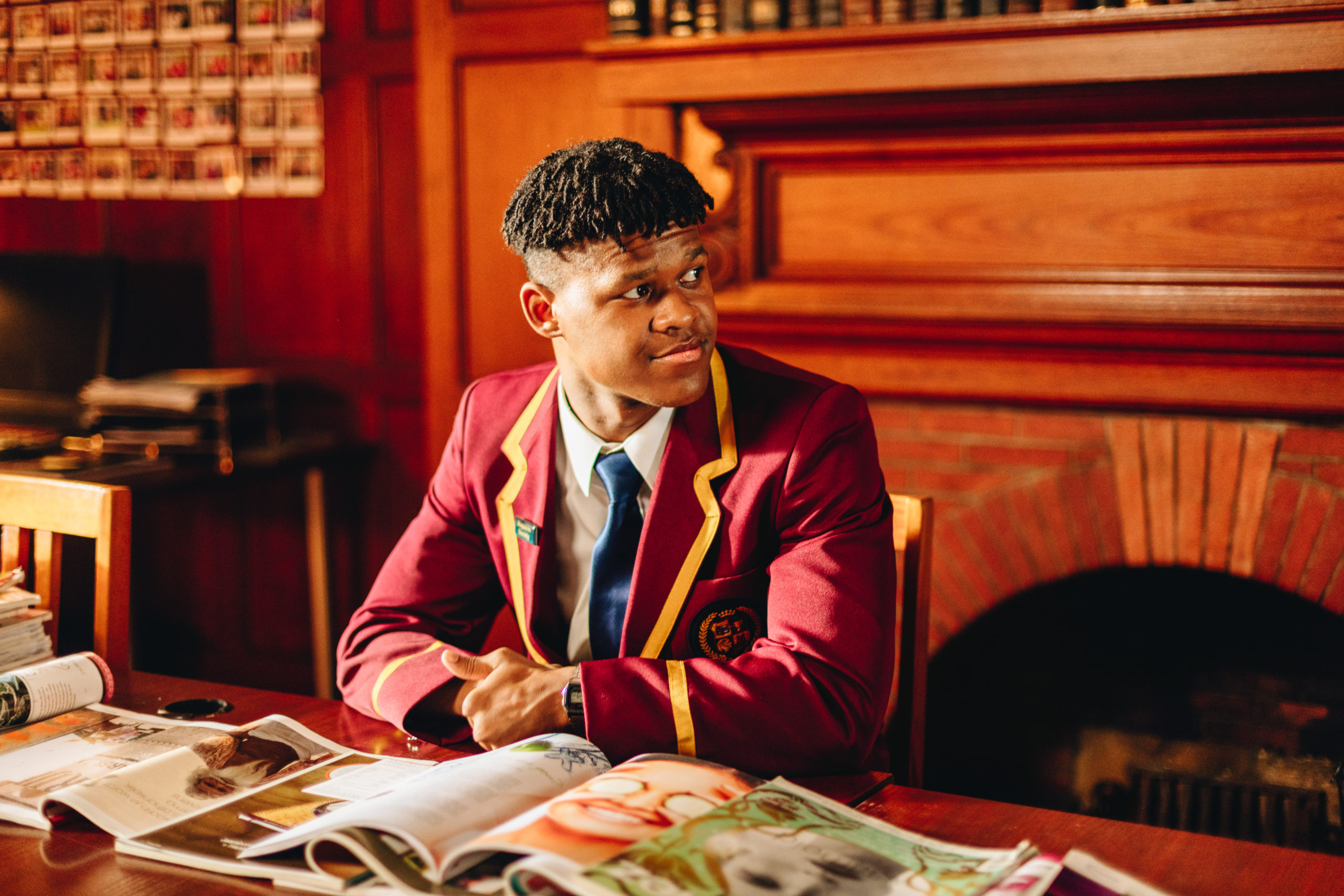 Dillon has won the hearts of many with the portrayal of his character. He did justice to it and he was very authentic and relatable. This was Dillon's big acting gig, and he said it has not sunk in that he starred in Blood and Water.
"
I got the role through my agent via an email, even when I received I was shocked because I was like it's Netflix, and then when I got the call the first thing I did was prayed. I thanked the Lord and even while praying it was still shocking to me to say that that I'm going to be on Netflix second African original series Blood and Water, even today saying that sentence is still a shock, but it was definitely very magical and I am privilege to say I'm part of a big series like Blood and Water" he said.
Arno who portrays the character of
Chris
is no stranger to our TV screens. The actor had a phenomenal breakthrough in the acting business, having previously starred on
Getroud Met Rugby
and
Binnelanders.
His acting is so groundbreaking and intuitive and he is already taking the industry by storm.
It is no secret that acting as a homosexual character can prove to be a difficult role to master for some actors, especially if it's a role you have never played before, but Arno has left a lasting impression on us with his impersonation.
Arno said, he did not even know what the word pansexual meant when he got the character. The actor said he had to do justice to his role because he was representing the LGBTQI community.
"Playing Chris was a big responsibility because, I am representing the LGBTQI community, so with that comes with a lot of responsibility and respect that I needed to have for that character, so with a lot of it was talking with friends who understood that life so I had to talk with friends who knew and I learned a lot," he said.
Arno said the character has opened the conversation that not everything revolves around one's sexuality, hence the storyline did not dwell on Chris's sexuality a lot.
The actor said growing up he never thought he would be an actor,
"I used to play rugby and hockey, so I only started with acting when I was 16 I took drama as a subject, and then I slowly started auditioning. I've been to 6-7 auditions before I got the role."
The series had a star-studded cast which included veteran actor
Sello-Maake Ka Ncube, Gail Mabalane, Xolie Tshabalala, and Natasha Thahane
. Arno said working with them was a great opportunity and they learned a lot from them.

"People took responsibility we spent a lot of time together discussing scenes, but having Gail and Sello, it brought us all together, we learned from them and it was easy to tell to the story," he said.

Arno said working with Dillon was an amazing experience, even though at the beginning of the production he thought he was too young and was still at school, but they had a good relationship.

"For the longest time maybe it is because I did not ask him but, I thought Dillon was still at school. I felt bad because I swear a lot and i make dirty jokes so I tried to not do it in front of Dillon, but only after a month or two I learned that he is done with school" he added.

Dillon said he looks forward to gracing our screens again, and he is ready for more opportunities.

"Netfix has given us is an open mind and the possibility that our work can reach globally. For me, anything would be a blessing whether it is another South African or African job or a global series," said Dillon.

We wish you all the best in your careers, and keep on raising the SA flag high.

Main Image Credit: Twitter @NetflixSA