DJ Sbu knows what he wants and doesn't waste time in getting it.
The media personality proved this in 2015 when he pulled out all the stops to make sure that we all know about his energy drink, Mofaya. This, of course, didn't come without drama and controversy. While promoting his product, Sbu got into a lot of trouble. 
Sbu and Metro FM split
Sbu has been on radio for years. The DJ, known for his husky voice, has gained a lot of fans over the years. His show on the station was quite popular and had really nice features and he interviewed interesting people. 
However, all of that ended after the hitmaker promoted Mofaya at the Metro FM Music Awards in February. His stunt didn't impress his bosses and that led to his suspension. 
Sbu and Forbes magazine drama
DJ Sbu is known for being a big dreamer, but he went too far after sharing a fake cover of himself on Forbes Africa magazine. Although the cover was created by a fan, the father of one got into a lot of trouble and Forbes made it clear that they had nothing to do with it. They even threatened legal action.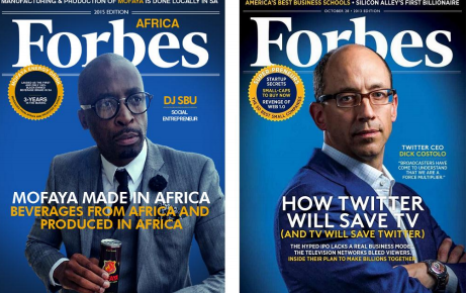 More on this later... 
Sbu arrested for drunk driving
Just when we thought things couldn't get worse, Sbu got himself arrested for drunk driving. This happened on Main Reef Road, Randfontein, Johannesburg.
Sbu has the last laugh
It looks like that negative publicity worked in Sbu's favour. Not only did he and Forbes make peace, but they're also working with him on a show called Kicking Doors, which airs on CNBC Africa. 
He also teamed up with Doves funeral services to provide funeral attendees with his energy drink... for free! 
Not such a bad year now, was it? 
Image credit: Instagram