Every Sunday evening at 6pm, Mzansi Magic viewers make a date with the channel to view what we'd consider as one of the most entertaining and drama-filled reality shows to air on South African television.
Since the inception of Diski Divas the lives of Katlego "Kat" Mohoadube and Felicia Modise have become a whirlwind of cameras, set life, drama and fame. We speak to the ladies about the show, friendship and even about their sex lives.
"I'm happy with the general outcome of the show and I love the fact that we're working with such a great production team. If I could tell you just half of the stuff that happens behind the scene you guys would be shocked! But the way things work is that we see the completed episodes with the general public and the way they place the scenes together is amazing but then again when you're working with the likes of Basetsana Kumalo, the end product is bound to look amazing." Said Kat.
We then placed Felicia on the spot and asked her what shocking shenanigans her and Kat get up to behind the scenes:
(Laughs) "Well, we girls have our naughty side, especially Kat and I but the production team portrays it in a very light and humorous way.  For example Kat and I speak about how horny we are (Laughs) We're just open like that with each other, I would tell her that I'm in a drought season and she'd also admit that she's also in the same boat. "
You'd think that two beautiful ladies like Kat and Felicia hardly experience drought seasons, but Felicia made it clear to us that it's not exactly the case:
"Not really hey, you don't want to be that woman who has sex with any guy. This cookie is precious, not anyone is going to come and slice it you know. You need to be cautious about who you sleep with, the last thing you'd want to do is sleep around with men just because you're experiencing a dry season.
At the end of the day you need to respect yourself as a woman and as a brand too. So more than anything it also has to do with our dignity as women" – said Felicia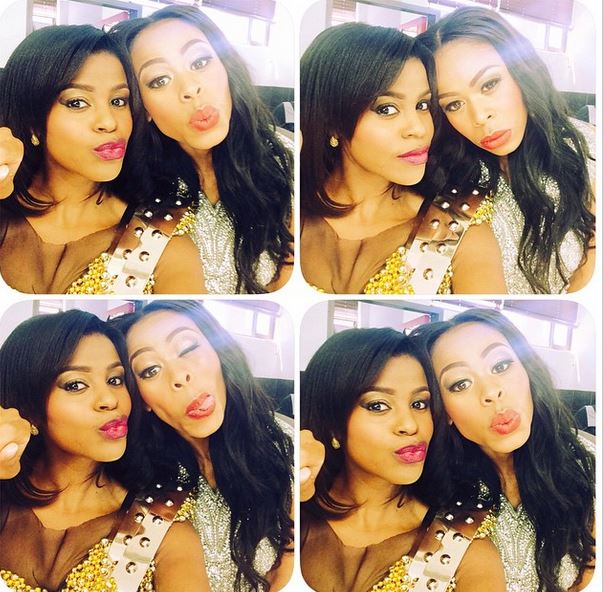 Lastly, we asked the ladies if they truly disliked anyone on the show:
"Firstly we'd like to clarify that nothing is scripted on Diski Divas, what you see is what you get. Nobody is being told to be a b…. or a nice girl we're giving it to you raw as it is. Felicia and Kat are really close friends; we do things together even when the cameras are not rolling and yes there is someone we really don't take a liking to on the show and you'll find out more on why we don't like her on this Sundays show which airs at 6pm on Mzansi Magic."
Look out for our podcast on ZAlebs with the two ladies as they dish out on who they would love to spank and slap!