Fans of actor
Hungani Ndlovu
should be delighted to know that their favourite actor is returning to television. He shared the exciting news through social media. Ndlovu is currently working on a new film that is set to change the South African film landscape. The movie is titled
Ring of Beasts.
The actor worked with filmmaker Adriano Miguel on the project.
Read More:
The Ndlovu's Reveal They Wanted To Give Up
Ndlovu
broke hearts when he
left Scandal in 2020.
The reason for his departure is still unclear at this point. Taking to Twitter, the drama did deny reports that Hungani was fired.
"There's a published article circulating around that Hungani is leaving the show. As #etvScandal, we're disputing every allegation stated in the article. Hungani has not been fired by production. We're happy with his excellent professionalism and work ethic."
The tweet read.
The actor and his wife took to YouTube recently to open
up about contracting Covid19
just before Mother's Day.
"On Saturday before
Mother's Day
, I went for a shoot and managed to shoot the whole day. And the Saturday I wake up with Dololo taste. Like I have no taste, I have zero smell."
Said Hungani's wife Stephanie.
"Like absolutely nothing. Worst of all I knew there was a problem. Guys, have you ever smelled eucalyptus oil? If you can't smell eucalyptus oil, there is a problem. So I say to Hungani on Saturday that this is Covid." She continued "Hungani also went to get tested and his results came back positive."

"Besides from the loss of taste and a little bit of the tight chest, I think the most difficult thing was isolating from each other in the house. We were not sleeping in the same room. Pretty much not eating in the same space. Medically that's what recommended because of the spreading of gems."
Interjected Hungani.
Stephanie
was the one who had the worst end of the stick
"But I think my symptoms were worse than yours. I only had one day when I was out and could not get out of bed. My head was spinning; my chest was extremely heavy. The rest of the days, to me at least, felt like gold. The symptom that frustrated me the most was the taste and the smell. Guys, you will not appreciate certain stuff until you lose it. And especially things that you take for granted like your senses. "
Check out the full video on their YouTube channel.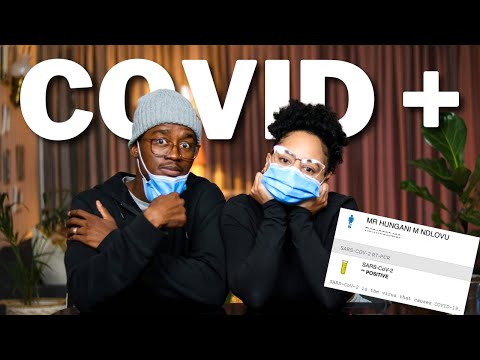 Read Next:
Fun Facts About Sibongile From Gomora
Main Picture Credit: Hungani Ndlovu Instagram Account @hunganindlovu