SA's Got Talent came to an entertaining close last night as the top 6 acts in South Africa battled it out live on stage for the country's votes. In the end, Johnny Apple was crowned as the victor of South Africa's biggest talent search. Our editor, Tinashe was in the audience on the night. Let's find out from him what went down.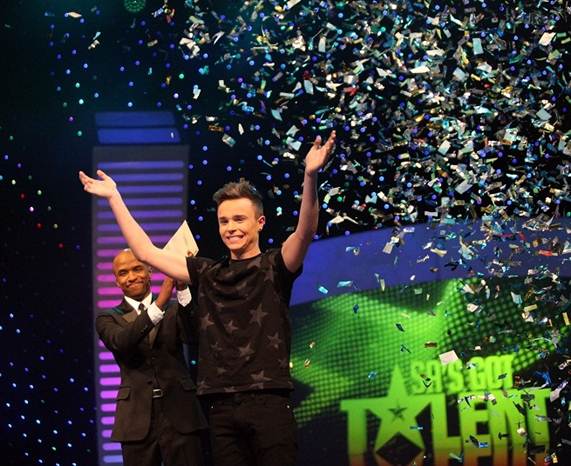 I arrived at the Alex Theatre in Braamfontein to an excited crowd filled with family members of the SA's Got Talent finalists, fans of the the show, and media heads, like myself. We were all expecting an excellent finale- and I think it is fair to suggest that nobody was disappointed. We all know by now that Johnny Apple won- but to appreciate his victory I think it would make sense to give equal mention to just what he was up against. 
As you'll have seen from my preview yesterday, the SA's Got Talent Finals were filled with, well, kids! The average age was a mere 13 Years old with the oldest contestant (The Glamipulator) being 20 years old. It's easy to forget how young some of these kids are, though, as they harbor talent beyond their years. That phrase is becoming a little clichéd in today's era of reality television and talent shows, but the sentiment could not have been more true last night.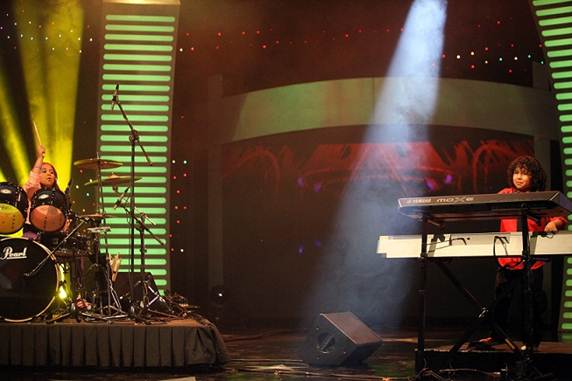 The performances were kicked off by the JustinLeigh Band. A 10 Year old and a 6 Year Old. They've been extremely popular throughout the competition and last night they carried on with their consistent level of performance. They performed a medley of South African tunes with 6 year old Justin on keys and 10 year old Jamie-Leigh on the drums. It was a great start to the evening and their understanding of music is absolutely astounding. 
Olwethu, The Glamipulator, was next. I was convinced I was watching the winner. His magical (Literally, magical) performance was as entertaining and awe-inspiring as it was gripping and emotionally engaging. It was a well worked magical routine, one unlike anything I've seen in my life, and it was reflected in the audience's reaction. Olwethu was confident and assured. I actually stood up to applaud him off the stage.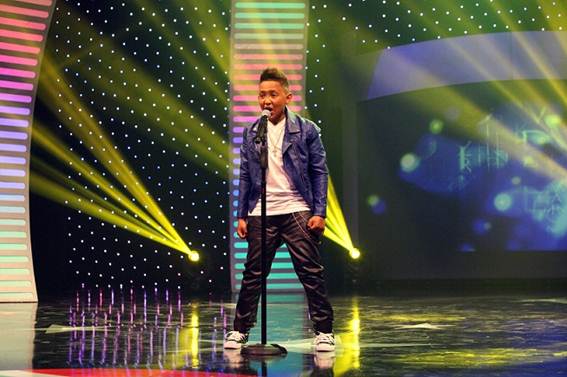 Olwethu was a tough act to follow- but Lil Diezo was not to be deterred. The young rapper was not short on confidence as he took to the stage performing a song he had written this week. His performance was enthusiastic and energetic, and the pressure of the occasion did not get to him. With his family in the crowd, he gave off a modest bow as his performance ended. 
Nadia Van Der Westhuizen was next up on the roster, and her performance was a little underwhelming to say the least. Let me start by saying, Nadia can sing. She's got an incredible voice and with enough confidence and the right management, she is going to be one of the biggest singers in South Africa. She's 11. ELEVEN. A disappointing performance in the final of the biggest talent show in the country is nothing to be ashamed of, but unfortunately that is what she gave us. I think the problems stemmed from the song choice. She clearly thrives in the realms of power notes and high keys- why would you give her a song where she is singing in a low, uncomfortable key for the majority of the performance? I could sense her discomfort from the go, and this was emphasized when she mistimed her "big" moment in the main chorus. While I do feel that Nadia was a little out of her depth in the finals, I feel that, had she been better advised, she would have given us a better performance- a more accurate testament to her talent. 
At this point I was thinking, "We haven't seen a dancer!" As if on cue, Luzuko rolled onto the stage and delivered an emotional performance filled with - um, emotion. He danced to Rihanna's hit single, "Stay" which was a bold choice, but one I felt paid off as he knew what he was doing. Again, I thought he'd have been better served with a different song- perhaps something up-tempo for the finals. 
There was one act left, and the addage of saving the "Best for Last" rang true when Johnny Apple hit the stage. While some people can sing, Johnny can saaaang. Pardon me, but his performance was incredible. His vocal technique is incredible and he merrily danced between powerful belts and delightful falsettos.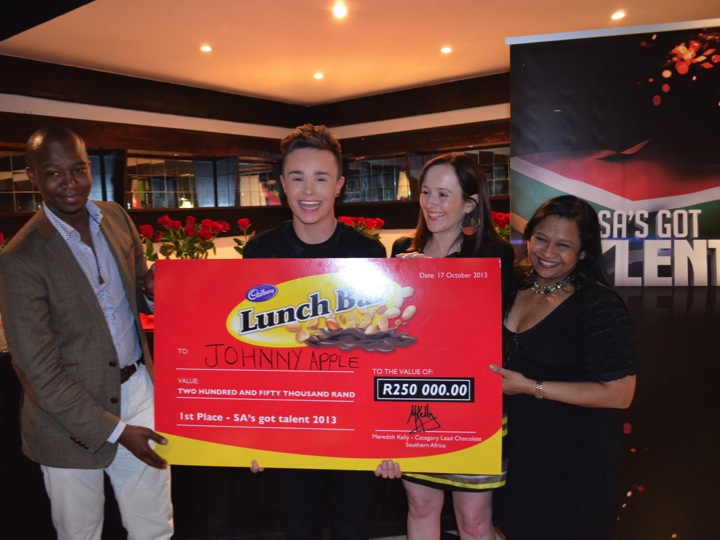 When the results show began, I was disappointed not to see The Glamipulator in the top 3. Instead, the top 3 comprised of the JustinLeigh Band, Johnny and Lil' Diezo. Johnny Apple was announced as the winner of this year's SA and received a handsome cheque for R250, 000.
The JustinLeigh band were announced as second runners up, while Lil Diezo took the runner up spot (Netting a cool R30, 000 while the youngsters netted R20, 000 for their efforts) 
It was an entertaining finale and I'm sad- sad that I have to wait an entire year to see some more of South Africa's incredible talent!