The
Bring Back Your Smile
host,
Kayise Ngqula
reflected on how far grace and mercy extend in people's lives.
Read More:
Kayise Ngqula Is Going Through The Most
Kayise
said that in her own journey, she finds that when she looks back in retrospect or what is currently happening to her, it dawns on her that she has been able to make it past a hardship or setback, "It was when I utterly refused to believe in nothing else but that grace and mercy that I know is afforded to me. I know it is much easier said than to be done but it is possible. And then suddenly I know that don't have to do a thing."
"How far we reach within ourselves to increase our capacity to acknowledge or receive it is particularly what I am most concerned with,

"Just as His word has promised, all that I will ever need is provided for. Not ever more than I'll need. And 'Surely goodness and mercy shall follow me the days of my life and I shall dwell in the house of the Lord forever and ever"…. That's it. It is well with my soul. In times such as this, I hope you too remember that it is well. ❤️"

Kayise
was involved in an accident that claimed her husband's life Farai Sibanda in 2019 on Father's Day. The couple had been married for just 10 months when Farai passed on.
Kayise
spoke about the passing of
her husband
in detail on her YouTube channel
"After Dark With Kayise"
Recalling the fateful night after they had the accident, Kayise said, "There was a commotion, the doctors, paramedics and anyone who needed to be there to attend to us, it was then that I asked, 'Where are we and what's happened?' I was then informed by the doctors we'd been in a car accident and that we were quite injured… "But I looked to my right, my husband was hysterical, fighting off anyone who touched him ... he didn't want to be touched and attended to, he kept screaming my name ... I then told him we're going to be OK."


Kayise
said she has never begged so much for something to happen.
"I was told that he was not doing okay but as the week progressed, I kept being told that he is getting better. He is better than yesterday, he is looking better today. When he hears your name, he squeezes. I was told that when he hears my name he would react so much so that my father in law and my brother in law spoke to my Doctors that could I at least be wheeled in my bed to him because they just didn't know what could be done to save him and if there was a chance at all that if he heard my voice then we needed to do that."
Kayise
was then taken to him and when she got there, she told him to wake up because she could not understand why he was not waking up. She was hopeful but on the 22nd of June, she heard a voice tell her that her
husband was gone.
She says she thought she was dreaming but it was her brother-in-law breaking the news that would signify the start of her life without her husband of 10 months.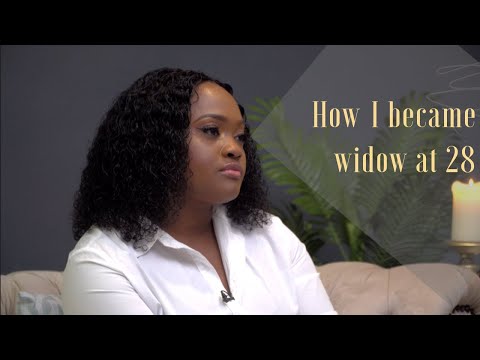 Kayise
is still healing from the pain of losing her husband and she is embracing every pain that came with it and we are so proud of her. This is one of the many reasons
Kayise
is thankful for life and every challenge she is met with.
She has since found love again and is not scared to let he partner just how grateful she is for what they have. We love this for our queen.