Jub Jub and Lerato Kganyago got into a heated exchange
after Jub Jub slammed people who judge the looters saying they come from a point of privilege. He also came for celebrities who are not saying anything positive about the situation, instead they bash and drag the looters.
Read more:
Jub Jub Drags Lerato For Filth
Lerato
and
Jub Jub
almost share the same sentiments about the entire situation but Lerato argued that a few celebrities are speaking out, as Jub Jub said they were not.
That is when Jub Jub clapped back at Lerato and in the lengthy response threatened to expose her dirty laundry. The
Metro FM DJ
does not understand where Jub Jub's anger comes from because all she said was that artists are speaking out. She also told him to get his facts straight by not generalising, which ticked him off.
"
I didn't even say anything wrong. I just mentioned that some artists are speaking. He must khipa my files I'm ready lenna. Trying to give people an impression about me,"
she commented on IG.
On Twitter Lerato was left fuming after Jub Jub's response and she told him to come for her, she is ready. Lerato also urged the
Uyajola 9/9 host
to try digging up her dirty laundry but he will not find anything. As a girl who grew up in the townships, like he did she cannot think of any possible files he could unearth.
"I'm waiting…sonke siphuma e loxion!
"
She also reiterated that she is not scared of Jub Jub and that he should reveal her dirty laundry she is patiently waiting.
Lerato also engaged in a back and forth with Tweeps taking Jub Jub's side saying she did not say anything offside, she only mentioned that the real looting started years back with government officials.
"I respect your opinion ma. Where did I not speak the truth mama? By saying the looting from our government has been happening for years? Where is the lie there mama?"
She also defended her philanthropic ways after they were questioned by tweeps. Lerato together with her company Flutter by LKG donate free sanitary pads to young disadvantaged girls and also adds toiletries as well as basic food. She responded to a tweep who said Lerato does not care about her followers,
"Please go do research about what I do from MY OWN POCKET, EVERY MONTH, with young girls from poor backgrounds! No funding whatsoever! GOD BLESS.""You feel me giving away free toiletries, sanitary pads, foods, from my own pocket is not enough. What have you done mama?" s
he responded to another tweep.
Lerato also feels Jub Jub is coming after her because she is a woman.
"Think I'm an easier target because I'm a woman! FOH! His comes from something else that he must address. But try to push a narrative about my reputation like he knows me, nah that I won't sit down and be silent about!"

Check out both their responses below: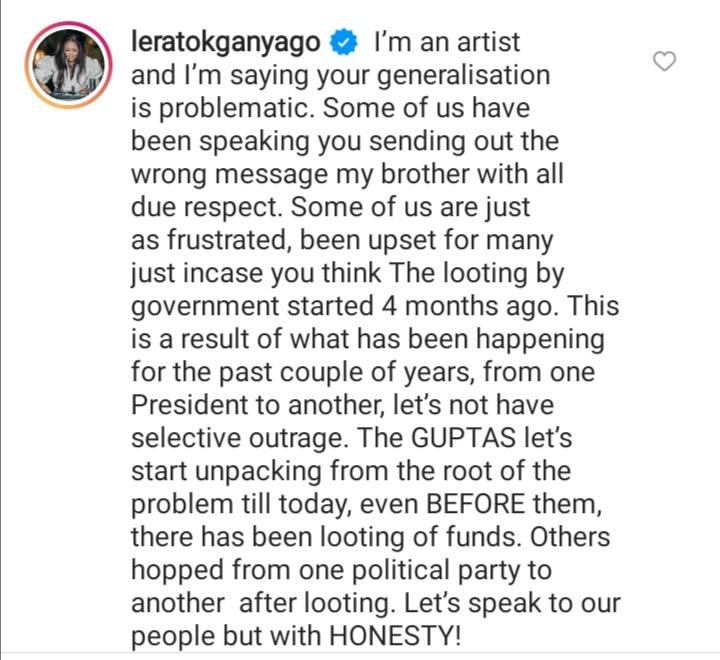 Read next:
Skeem Saam's Sis Ouma Cause Of Death Revealed
Picture credit: Instagram