Nonhle Ndala has opened up about a lot of things in the October issue of Mamas & Papas magazine. Nonhle and her man, Andile Jali, welcomed their baby girl recently.
The reality TV star dished on her children, her business and meeting Andile's family. 
Here's some of what she shared: 
Her daughter, Aurelie, whom she had at age 17 
"Aurelie was my first definition of what love is... It didn't matter what I looked like, what I had done or who I was, my baby adored me. She gave me all the love and acceptance I had been searching for my whole life, just like that..." 
Nonhle said she and Aurelie, who is now 14, talk a lot. "She shares a lot with me, and we are very close. I am so proud of her!"
Her second pregnancy
"I trully believed that I would never have another child again. I was happy with my Aurelie and thought I would meet someone one day who maybe had their own children and maybe we'd be a combined family..." 
According to the magazine, her man, Andile Jali, told her that he loves her and wanted to settle down and have a family with her. 
"I had heard that it could be difficult for someone with my level of fitness to fall pregnant. So my period was a week late and I called my good friend Karabo, who waited anxiously outside a Dis-Chem store for it to open so she could purchase a home pregnancy test..."
After confirming the pregnancy, she sent a picture of the test to Andile, who was playing in another country for Bafana Bafana. He was reportedly over the moon. "It was such a precious moment."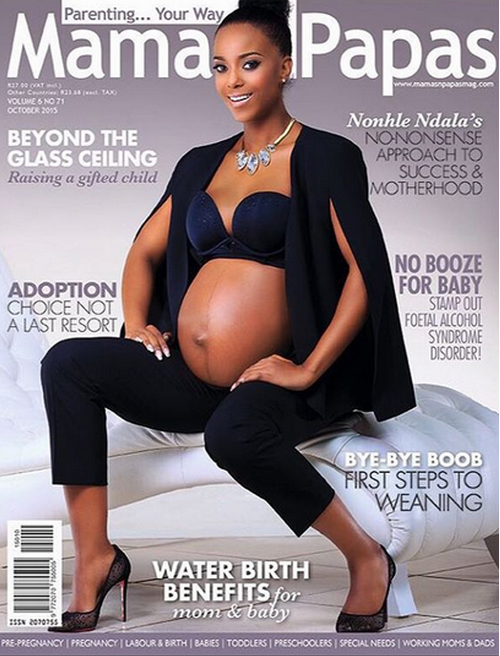 Booming business
Nonhle, who has worked in sales and marketing, started a print and design company, which later branched out into event management. She said: "I now do major international events..." She added that she and her business partner are moving into the arena of empowering young people. 
Divorce and becoming a TV star
After her divorce, Nonhle was in a dark place. With a bruised confidence, she joined a gym to lead a healthier life. She told the mag that she was inspired by Heidi Klum, who had also gone through "public betrayal" and still managed to look good. "... I thought if she could do it, so could I." 
The gym transformed her spiritually, and mentally she also healed. This also led to her becoming an ambassador for fitness training suppliments.
"Everything escalated from there. I was called to do radio and television interviews on fitness and when one of the producers of the Bootcamp Mzansi series came across my page on Instagram, they contacted me and asked me to come on the series as a trainer." 
Meeting Andile's family
Nonhle was welcomed into Andile's family through a traditional Xhosa ceremony. She was reportedly paraded by Andile's mother through the streets of their township. 
"When I arrived, she [Andile's mother] came to me immediately, touched my belly and told me how happy they were that this baby was coming."
Image credit: Instagram