He said his cousin who was using the car when the ordeal happed was shot multiple times.


He tweeted: "My cousin got hijacked last night, Mom's Benz is gone. My cousin was shot 3 times and hopefully managed to escape. Found him this mourning"
He also gave out contact numbers for people who could help.


"Guys this car was hijacked by 4 armed men in Germiston now at 11 pm, It was hijacked with the Driver (Chejana Mallane) and it is believed to be in Katlehong/Alberton,"
he posted.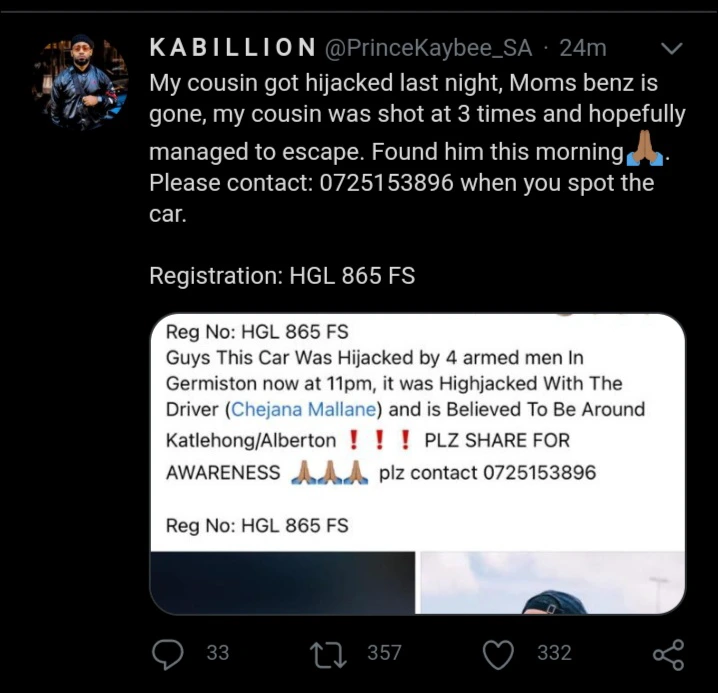 Today Uwrongo hitmaker gave tweeps an update saying the police have finally found his mother's car.


"They found my Mom's Benz, shout out @SAPoliceService," he tweeted.
Fans were happy that his mom's car is finally found, however, others still have some concerns.


Bongani responded: "Was it still in one piece bro? I know SA is super fast with stripping."


"Nah I'm sure a private car tracker found it then saps shadowed the private car tracker company,"
responded @SaTshepiiey.
Prince Kaybee found himself under fire yesterday after he made remarks on Twitter. Tweeps were convinced that he was throwing a shade at the other DJ.


A fan then responded stating that Master KG achieved all of that with one song. Kaybee's response to this did not sit well with many tweeps.


His response read: "No amount of "Grootman entitlement" will get you this one, it needs MUSIC this one!"


Here are some of the responses: Sandile said Prince Kaybee must stop hating and just congratulate Master KG.


"Uzofika bra kule level yobu Grootman stop hating......Should have Applauded Master KG without involving Other people."


@LesegoMoloi:
Was it really necessary to involve "Grootman"? Yall are very good artists - so, therefore, stay in your lane and let others do exactly the same.

Master Kg won the Global Record of The Year Award
at the 2021 Global Music Awards Africa (GMAA). He was nominated alongside Terror- D ft. Emmerson (Sierra Leone), Leczy (Nigeria), Simi (Nigeria), Obote Oberadaboo (Equatorial Guinea), Neny (Tanzania), and Afia Mala (Togo).
Celebrating his big win on Instagram her wrote:
"Cheers To More wins."

Master Kg was also nominated for the Global Most Popular Song of the Year and Songwriter of the Year.
Read Next:
Sbahle Receives Praise
Image Cred: Instagram