Last year Ray J released his below the belt single, I hit it first, the contents of  which saw Ray J boastfully singing about how he was the first guy amongst him, Kanye West and Chris Humphries to "hit it first". We need not explain what he meant by that as we're sure you get it (And if you don't you should be in school right now).  To add insult to injury, Brandy's little brother featured a lady who was the spitting image of Kim and when the video was officially released the entire entertainment world went bonkers!
All eyes were on Kanye West as we patiently waited for his reply, but Mr West didn't flinch one bit.  Since the video attack Ray J has been quiet, however last night he shook up things again when a report was released claiming that the singer planned on giving Kanye and Kim $47,000 (R487,658) as a wedding gift. This lump sum apparently serves as profits from his infamous sex tape with Kim.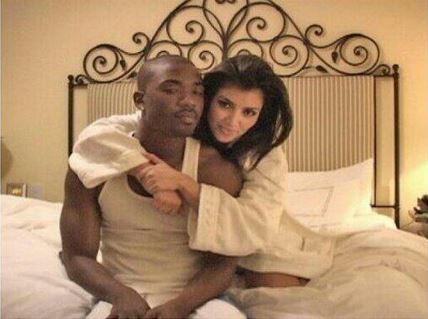 Our reaction was obviously us busting out into laughter and then questioning if Ray J ever got over Kim,first it was the single now a wedding gift? Fortunately a couple of hours ago Ray J addressed the rumours with a simple tweet:

What is true though is that Ray J did share a bed with comedian fossil Joan rivers, creepy right?  Before you have a heart attack this was just yet another comedic skit to milk out hollywoods most famous sex tape for what its worth.